Hello! I'm Alison Heikkila and I have a new Artesprix Blank of the Month to share with you, and it's a really fun one! For the month of February, you can get a Sequin Zip Case, which you can customize not only on both sides of the sequins, but also on the back of the bag! How cool is that?! Plus, starting next month, the Artesprix team is going to be collaborating with Hero Arts, but I was so excited that I couldn't wait…so today's project uses some wonderful Hero Arts stamps. I'll have a full unboxing video at the end of February to show you what I received for the collaboration. But for now, here's our project for today. 

*Some affiliate links are used in this post. That means that if you shop through these links, I may receive a small compensation, at no cost to you. For more information, please see my Affiliates page.
What is Iron-On Ink?
Artesprix Sublimation Markers, Ink, and Paint are specially formulated to allow you to use basic copy paper to: color, stamp, stencil, and monoprint anything you wish and turn it into a heat-transferable design. These designs are then applied to a polyester or polyester coated substrate with heat and pressure. You can use a heat press or a home iron! These designs, through this process of sublimation, will become permanent on your substrates.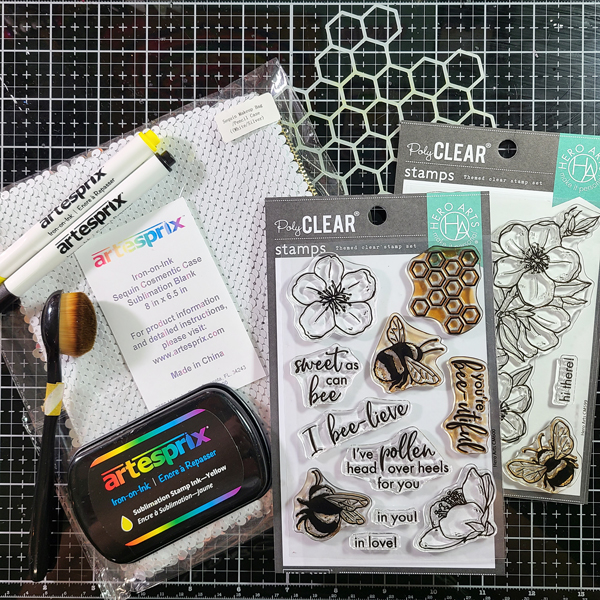 Supplies:
Artesprix:
Sequin Zip Case
Original Sublimation Markers (Black and Yellow)
Black and Yellow Ink Pads
Protective Paper
Heat Tape
Optional: If you have the older Artesprix Marker sets, I used Sky Blue on the wings)

Other:
Hero Arts: Beelieve
Hero Arts: Sweet As Honey
A Colorful Life Designs: Honeycomb Mask
Stampendous: Mirror Stamping Plate
MISTI Stamping Tool
Acrylic Block
Blending Brushes
Copy Paper
Pencil
Heat Source: Home Iron or Heat Press
Directions: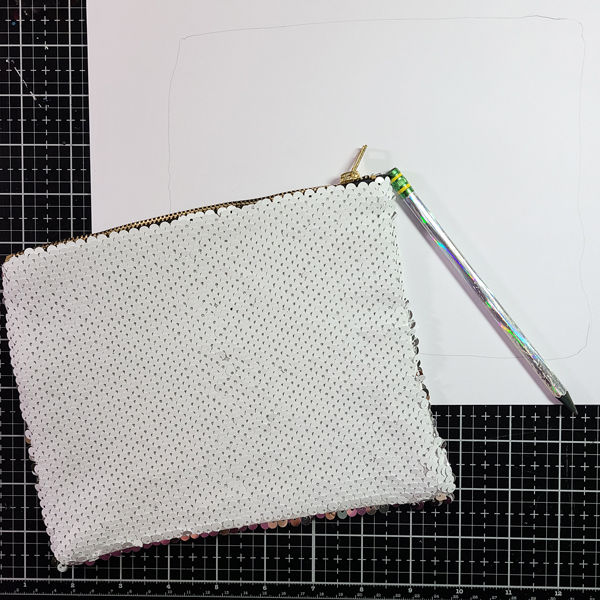 Step 1: Trace the Sequin Zip Case onto a piece of copy paper with a pencil.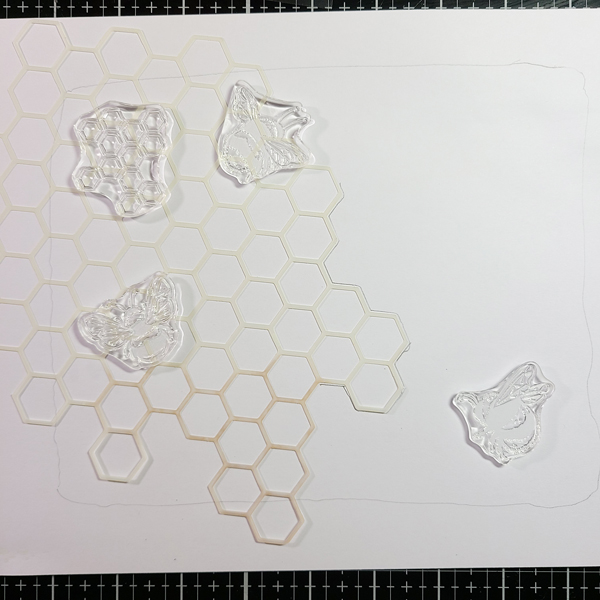 Step 2: Lay out the stencil and the bees to decide where you want them. My plan was to stencil around the bees, not where they would be exactly, so adding pencil lines to realign your elements is wise.
Step 3: Stamp the bees using the Black Ink Pad. Color the open areas of the body with the Yellow Sublimation Marker. If you have the older Sky Blue marker (no longer available), you can add some details to the wings with it.
Step 4: Realign the Honeycomb Mask in place and tape it down so it doesn't shift. Using the applicator of your choosing, blend the Yellow Ink over the mask. I didn't do the entire thing, and I was careful to avoid the bees.
Step 5: Add some detail stamping with the honeycomb pattern in the Beelieve stamp set with Black Ink.
Step 6: I decided to add more of the Honeycomb Mask to the right side of my design. I realigned the mask with some of the previously inked areas and inked a very small portion of it. Then, I moved the mask to where I preferred so that I had a bit of a gap in the middle of the design.
Step 7: Let's add the sentiment. We need to have our sentiment stamp in reverse, so it requires a few steps. First, place the sentiment where you want it on the design, and add a pencil line around it.
Step 8: Apply the stamp to an acrylic block. Ink it with the Black Ink, then stamp it carefully on to the Mirror Stamping Plate. Please ignore the ghost images on my Mirror Stamping Plate…they won't come off.
Step 9: Quickly stamp the reversed sentiment onto your design. You may not get a perfect impression. You can either try to restamp it, or use the Black Sublimation Marker (which is what I did) to fill in the lines.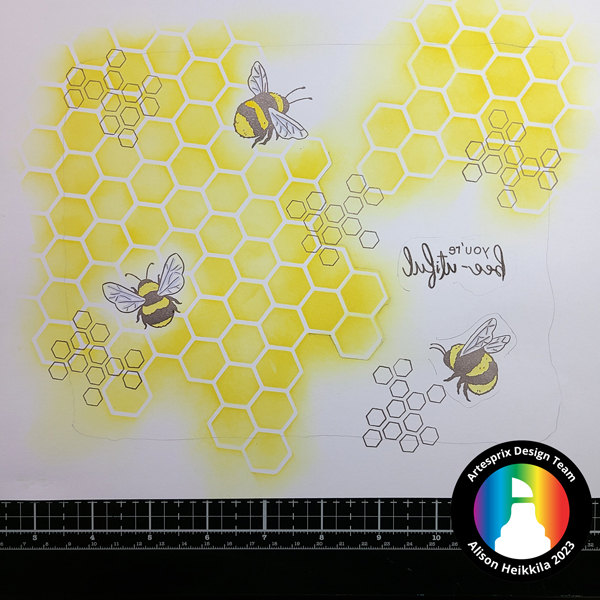 Here is my finished design! It's going to make an adorable bag.
Step 10: Tape the Sequin Zip Case face down. Be sure to have the white sequins all facing up (or all the silver) before you tape the bag down.
Step 11: Let's make our Sublimation Sandwich! Add a layer of siliconized paper to the top and bottom of your Blank. Your sandwich will be: Protective Paper-Colored Image-Blank-Protective Paper. The Protective Paper prevents any images accidentally transferring to either side of your Heat Press or to your home iron.
Step 12: Sublimate the Zip Case at 385 degrees for 45 seconds. Be sure to keep the zipper out of the Heat Press so that it doesn't get squashed.
Step 13: Let's do the Peek Test. Lift up a small area of the design to make sure it sublimated well. Using a lot of Heat Tape ensures that your design won't shift when you take a peek, and you can re-sublimate if necessary.
Here is my finished Sequin Zip Case, along with my original design. That yellow really pops! And, I love that I can sublimate the back of the case, and the other side of the sequins, if I want!
It's really fun to play with the sequins on this case. I enjoy playing with the Pillow Case I sublimated last year, and I'm happy to have a smaller version now.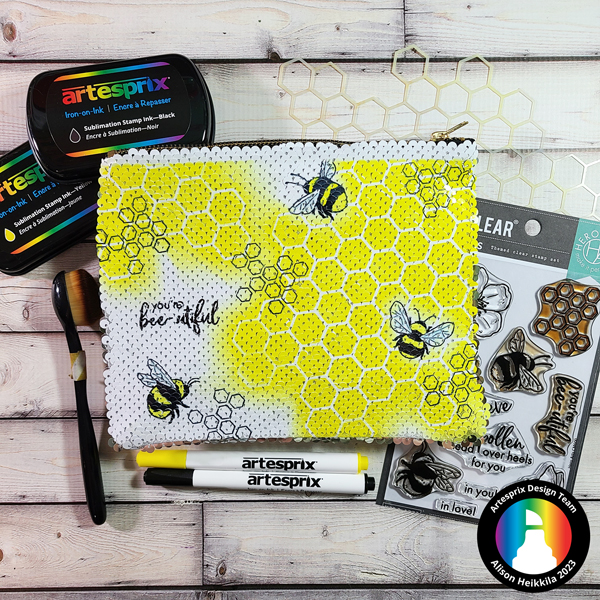 How would you like to get more ideas on using Artesprix's Sublimation Ink Pads, Markers, and Paint? There's a Facebook Group that's just for fans of Artesprix! You can click HERE to join. Also, don't forget to visit the Artesprix store to see all of the available blanks and bundles, so you can get started with sublimation. You can use my code, ALISON10 to save 10% off of your purchase. Thanks so much for stopping by. Have an inspiring day!