Greetings! My daughter's birthday was the other day, and I had to share the card I made her with you. We have always loved the Addams Family…the original TV show. My kids haven't seen the cartoon, movies from the 90's or the new versions, with the exception of the new Netflix series Wednesday. Rhiannon and I watched it a few weeks ago, and she really really enjoyed it. Back in 2017, she and I were Wednesday and Morticia for Halloween. She loved her Wednesday outfit/costume so much, she wore it quite often. She even wore her hair in braids. The first time she was Wednesday however, was back when she was 3 or 4. She had the perfect little adorable scowl. So when it came time to make her birthday card, I thought making an Addams Family themed card would be something she would love.

*Some affiliate links are used in this post. That means that if you shop through these links, I may receive a small compensation, at no cost to you. For more information, please see my Affiliates page.
I haven't gotten to use the Build a House dies from Lawn Fawn in quite some time, so I was excited to break them out again. I die cut 3 houses, chopping two down at the bottom, using a couple of gray cardstocks. I aged the house itself with Iced Spruce Distress Oxide, and the roofs and windows were done with Black Soot Distress Ink. For the "glow" from the house, I didn't want to do a bright, cheerful yellow, so instead I took some white mulberry paper and inked it with Antique Linen Distress Oxide for a soft look of light. The grass which was hand punched with gray was also inked with Iced Spruce Distress Oxide.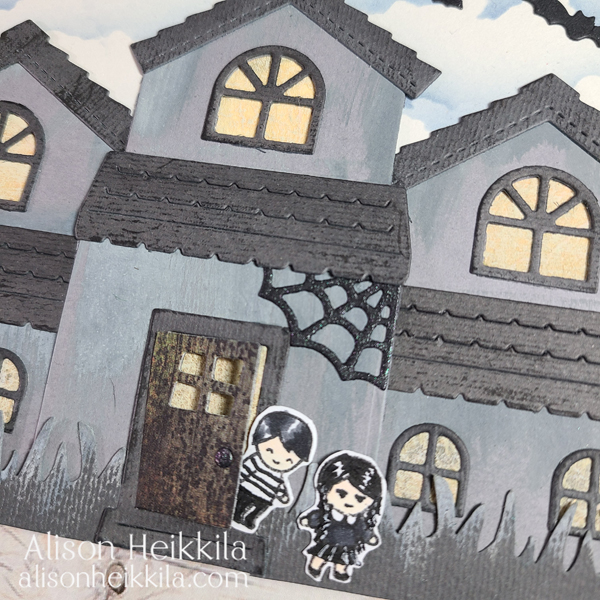 Some of the elements, such as the roofs and the spiderweb are from the Build a House Halloween Add-on. The door was cut from a very old piece of Basic Grey cardstock that was already perfectly distressed. I created Wednesday and Pugsley from the kids of the Tiny Christmas stamp set. Pugsley was pretty easy, I just added stripes to his shirt. Wednesday took a bit more work. I made sure to not ink her face or her pigtails. I added braids, gave her a skirt, shoes, and a scowl. 😉 I drew the face in a way my daughter used to draw faces, and it made me laugh out loud when she was done. I seriously love how both kids look.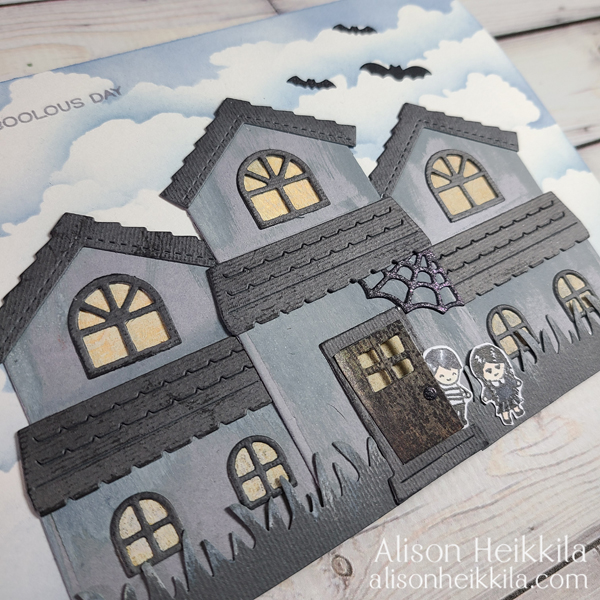 My sky was done with one of my favorite stencils of all time, the Cloud Edger from A Colorful Life Designs. I inked it several times with Weathered Wood Distress Ink. I also added a few bats from the Build a House Halloween Add-on.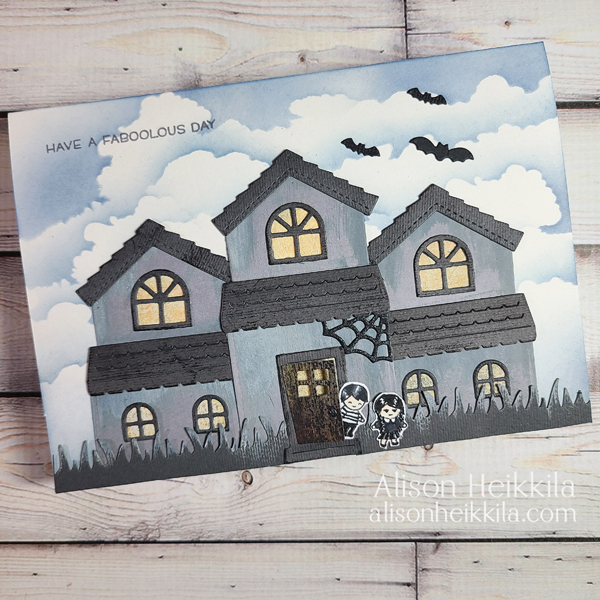 Rhiannon loved the card, and she laughed when she saw how mad Wednesday looked. It was fun to alter the little girl like that. I really enjoyed making this card. I had forgotten how enjoyable it is to put the various house pieces together to get the look you want. I'll be back soon with another creation. Thanks so much for stopping by. Have an inspiring day!