Hello! I am a vampire fanatic. I have always loved all things vampire…so whenever I can make something vampire-themed, I am especially happy. Any BTS fans out there? Have you seen Jung Kook's photo folio?!?! The new Sparkle Blend release from Doodles Paper Playground is out and my favorite Blend this time around is Blood Magic. I'll let you figure out why. 😉

*Some affiliate links are used in this post. That means that if you shop through these links, I may receive a small compensation, at no cost to you. For more information, please see my Affiliates page.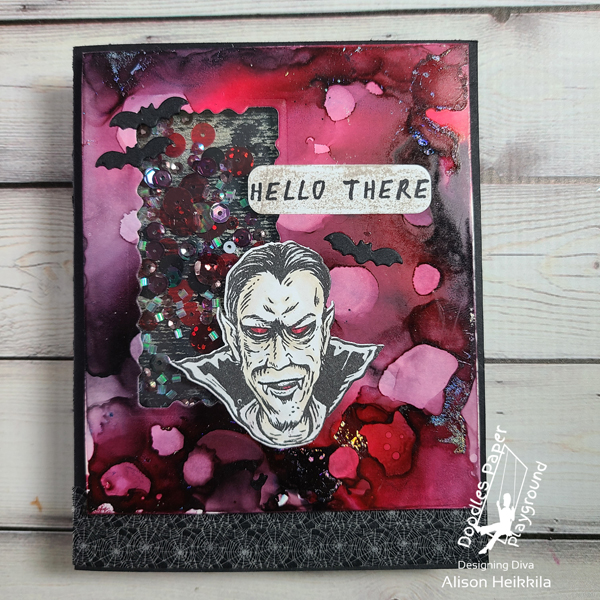 Using Blood Magic as a color guide, I used Pitch Black, Crimson, and Raisin alcohol inks from Tim Holtz on Poster Board paper to create my top layer. I tend to go a bit heavy with the Blending Solution that's used with the inks, which sometimes leaves sticky areas. I actually don't mind when this happens, because then I can pull out my Deco Foil scraps from Therm O Web and burnish the foil into those sticky areas, leaving behind a sort of marbleized trail of foil. On this card, I used the Iridescent foil, which picked up the iridescence of the Mylar tubes in the Sparkle Blend. I used a deckle-edged frame from Stampendous to cut out my window.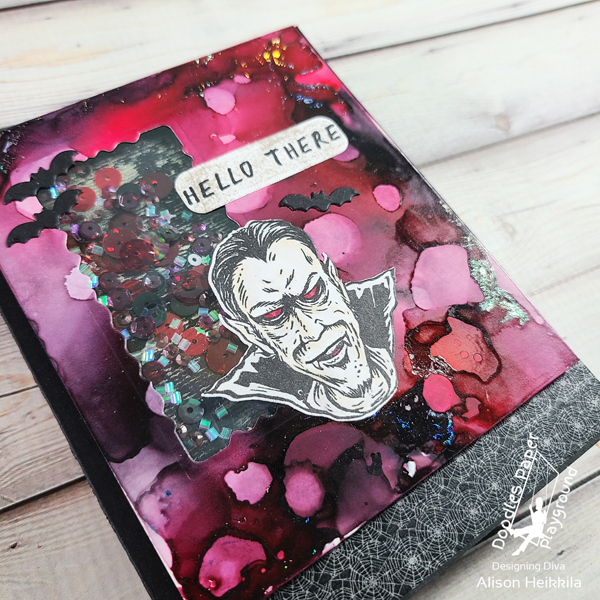 Look at those deep garnet-colored sequins in this Blend. They are full of drama. It's such a dark and elegant Sparkle Blend. On top of my window, I added a few bats which were die cuts from Lawn Fawn, an old vampire stamp from Tim Holtz, as well as a sentiment from his newer Noteworthy stamps. You will start seeing me use this set often! Behind my window, I had a scrap of textured black cardstock that I swiped metallic ink on to, and I added some spider web washi tape to the bottom of the card.
I love how this card turned out. It's spooky, mysterious and a little creepy. This new Sparkle Blend is great to work with, and I hope you give it a try. Be sure to check out all of the awesome sequins mixes from Doodles Paper Playground over at the Sparkle Blends Shop. Also, visit the Sparkle Blends Fan Club on FB for more inspiration. Thanks so much for stopping by. Have an inspiring day!