Hello! I've got an art journal page to share with you today that uses products from White Rose Crafts. The shop is currently closed until September 1st, but the DT and I are still sharing projects (sometimes with new items!) to keep you excited about the grand re-opening.
I went shuffling through my Gel Press prints to see if I had something that I wanted to use with the pumpkins from the Basic Veggies stamp set from AALL & Create. I make many prints at once, so truthfully I don't know what colors or stencils I used, but the print was definitely done with fluid acrylics.
I decided to paper piece the pumpkins, so I took some scraps from the Bella Rosa collection from Bo Bunny and one from Kaisercraft's Bombay Sunset. I also stamped the entire image first with Pinecone VersaFine Clair ink and I embossed it with clear powder. I added some additional markings with a stencil from Ciao Bella (it's not on the website yet), and I made some marks with paint pens. For a little magic, I added 3 small stars from AALL & Create's Moonlight stamp set. I left the top pretty empty to allow for some "breathing room."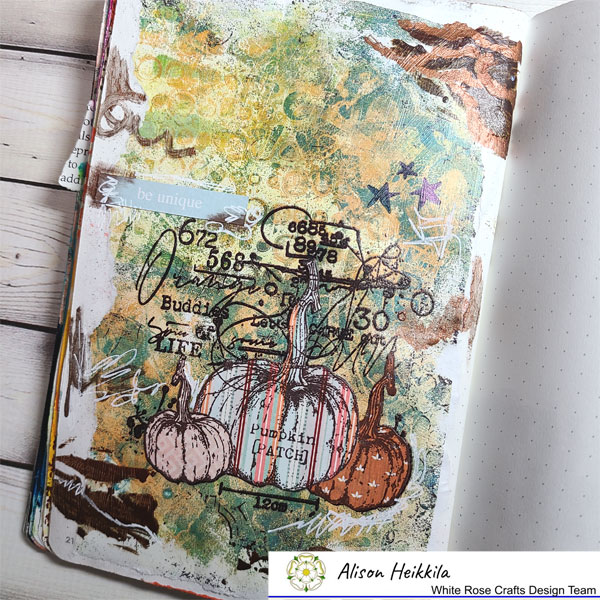 I am having so much fun with the Basic Veggies stamps. They inspire me to use them in a lot of ways. Combining those images with Gel Press prints is kismet…they work so well together. I'll be sharing a new art journal page soon, I hope. Tomorrow, I'll have my latest Guest post for Imagine, so I hope you'll come back. Thanks so much for stopping by. Have an inspiring day!