Hello! Last month during one of my FB Lives for Doodles Paper Playground, I shared a technique on how to use stencils to create shaker cards. I like to have at least one sample ready when I do Lives, so that I can share the concept of what we'll be making, so the card below was my sample. We didn't make this card during the FB Live, rather, we did a completely different style, but the idea was the same. This card uses the "Spill the Bubble Tea" Sparkle Blend, which went perfectly with the colors I had in my background.

*Some affiliate links are used in this post at no cost to you. For more info, please see my "Affiliates" page.
I went through my stencils and came across this one from The Crafter's Workshop called, "Two Hearts." I liked the idea of one heart being solid, as intended, and the other heart being a shaker. I found a "roll off" monoprint that I had made, and I really loved the soft, watery colors on it with a bit of texture, so I decided it was perfect for the grungy look of the stencil. I applied Nuvo Glimmer Paste in Plum Spinel across my entire background (even the heart I was cutting out), and let it dry.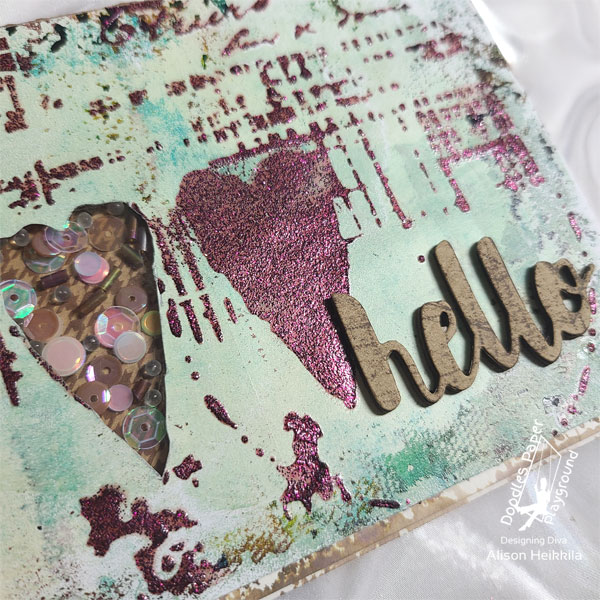 Look at that gorgeous color! While the paste was drying, I die cut my "Painted Hello" die from Simon Says Stamp several times from Kraft cardstock, and applied Distress Ink in Vintage Photo directly from the pad, gently on top of the word. The texture of the pad leaves fantastic markings on the die cut. I stacked my sentiment and let it dry. After the panel was dry, I cut out the heart on the left with an X-Acto knife. I kept the heart to use at a later date.
You can see how pretty the colors are from the "Spill the Bubble Tea" Sparkle Blend. I love those clear caviar beads, the chocolate colored "sprinkles" and the watery tones of the sequins that work so beautifully with my roll off print. I backed the window with a teeny houndstooth print from Doodlebug. I used an ivory card base (white was too stark) and I dipped it into Vintage Photo Distress Ink, which I applied to my work surface and sprayed with water. It gives a cool, drippy look to the edges of the card.
I think this is a very grown up and funky take on a shaker card. A lot of times shakers can be really cutsie, which is great, but it's certainly not everyone's asthetic. This version is a little more artsy, in my opinion. How can you change up your Sparkle Blends to give them a different vibe? Is that something you want to try? I'd love to know your thoughts. For now, please be sure to visit the Sparkle Blends Shop on Esty to see the all of the available Sparkle Blends, as well as joining the Sparkle Blends Fan Club on Facebook. Use my discount code, "ALISON10" to save 10% off of your purchase, not including Bundles. Thanks so much for stopping by. Have an inspiring day!