Greetings! Today I have a cool shaker card that uses the "Oh Hollo" Sparkle Blend from Doodles Paper Playground. As you might be able to guess from the name, this Blend is filled with gorgeous, holographic sequins. Plus, I got to use one of the many images I've colored for The Daily Marker's 30 Day Coloring Challenge. I've accumulated so many of these, and I am always happy when I get to use one on a card.

*Some affiliate links are used in this post at no cost to you. Please see my Affiliates page for more info.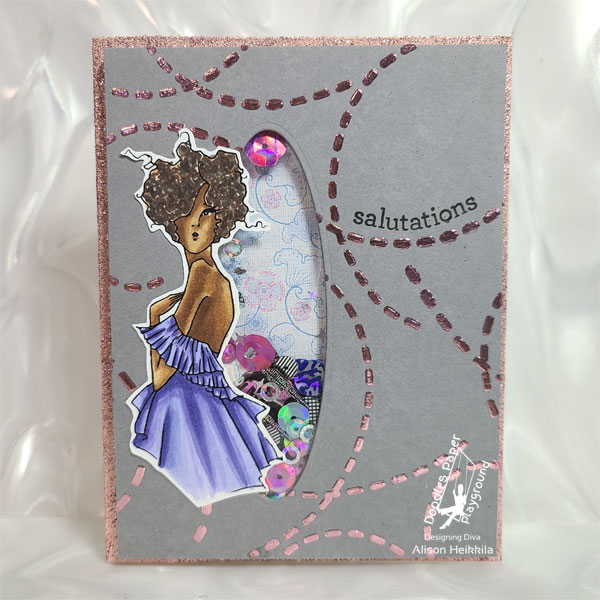 I colored this beautiful gal from A Day for Daisies with Copic markers. Even though she's a little disheveled, she's still so glamourous. The colors in her gown worked really well with "Oh Hollo."
Look at the colors in that Sparkle Blend! I have always loved all things holographic, so this is a new favorite of mine. I love the mix of patterned sequins in it too. They're all very different from each other, but they work together really well. I happened to have a background that was gray cardstock with Pink Quartz Deco Foil and Sassy & Crafty's Bouncy Path stencil that worked perfectly. I cut a skinny oval into the piece and backed it with a fun patterned paper scrap that was in my stash. Around the edges of my card base, I applied VersaMark Ink and Rose Gold Tinsel Embossing Powder from Stampendous, It gave that extra bit of sparkle that the card needed, while tying everything together. My sentiment is from the Salty Ladies stamp set from CZ Design and Simon Says Stamp. I gave the stamp a curve when I inked it up to go with the curve of the dotted line from the stencil.
I love the quirkiness of this card. The expression on the gal's face, with the swooping (and shiny!) dotted lines of the stencil, plus the sequins? It's definitely a fun card. Please be sure to visit the Sparkle Blends Shop on Esty to see the all of the available Sparkle Blends, as well as joining the Sparkle Blends Fan Club on Facebook. Use my discount code, "ALISON10" to save 10% off of your purchase, not including Bundles. Thanks so much for stopping by. Have an inspiring day!