Greetings! I love bats. They are so good for the environment. I love that they're a little spooky, although I think they are all adorable. One of the newest Sparkle Blends from Doodles Paper Playground is called, "You Make Me Batty," and I was really excited to use it in today's shaker. Here's a close up of the Sparkle Blend, since it's a little tough to see in my project.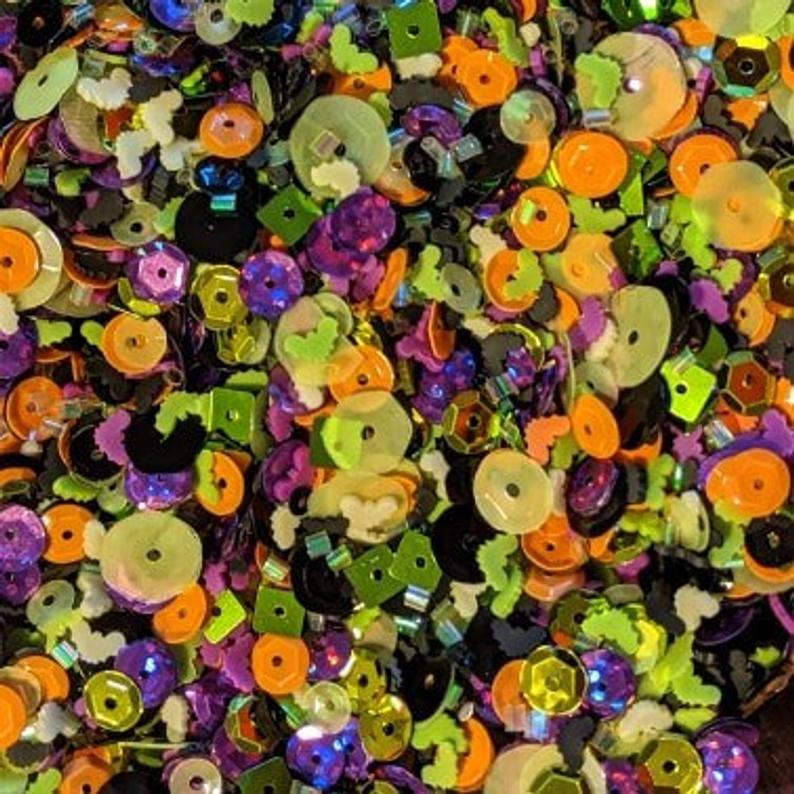 You can see that there are lots and lots of teeny bats in black, purple, lime green, and glow in the dark! The colors are bright and bold, plus you've got lots of yummy black sequins too. Now, here's my project.
I had created this background with alcohol inks some time ago when I was just "playing." I used Ranger's Eggplant, Lettuce, and Foundry. I love the "mud" the Eggplant and Lettuce created, and Foundry is just stunning. Do you see the little skull near the top right??? I die cut my window with a bat from Recollections (I'll use it on another card, eventually), and used the companion bat outline with black cardstock. As always, I used foam tape from Pear Blossom Press. It cuts like a dream, the release paper peels off easily, and it's nice & thick so my shaker bits have plenty of room to move around. HERE is my affiliate link (at no cost to you).

Underneath my window, I created another alcohol ink background using Citrus Alcohol Ink along with some Lettuce for good measure. You can see in the photo above how pretty the Foundry is. I die cut a "Boo" from a really old Sizzix die set in black and then inked on some Silvery Shimmer Delicata Ink from Imagine. Then I mounted everything on to a gray cardstock base.
I love how this card turned out. It was fast and easy to make, and has some very cool effects on it. The "You Make Me Batty" Sparkle Blend is such a fun one, and I know it won't be around in the Sparkle Blend Shop for long. Be sure to head over to Etsy to see all of the new release Blends before they're gone, as they are all limited edition. Don't forget to use my code, "ALISON10" for a 10% discount off of your purchase, not including Bundles. Thanks so much for stopping by. Have an inspiring day!