Hello! Today, I am sharing a card that my husband made. If you have been a follower of mine for a while, you know that he enjoys crafting with the kids and I. For the past couple of months, we've been having a crafting afternoon, where we each make cards using new Sparkle Blends from Doodles Paper Playground. He came up with this card (using Ladybird) all on his own, and I didn't do anything on it. I taught him a few techniques, but he did everything himself.
He created a cloudy background and then layered a beautiful tree stencil on top with a brown glitter gel. As it dried, he used a punch to cut his layers of grass, and he die cut his cake (from Stampendous' Birthday Numbers Dies Set) several times to create a shaker. He also stamped out his tree stump (from Lawn Fawn).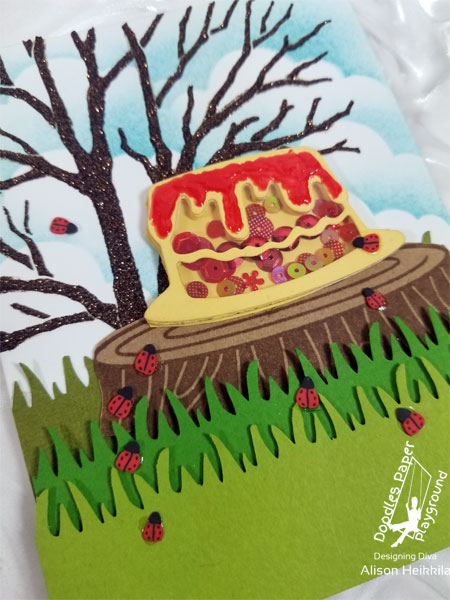 This Sparkle Blend is so cute, and I adore those ladybirds (which is what the UK calls ladybugs). I love how Gene has them crawling up to the cheesecake. He made a cheesecake, because at the time, it was only a few days before International Cheesecake Day, and he looooves cheesecake. He even used Nuvo drops to make his cherry topping!
Gene added a lot of texture and dimension with foam tape, the texture paste, the ladybugs, and all of his other little details. And I like that it's not a birthday card.
He worked really hard on this card, and I am so proud of him for trying so many new techniques at once. His design was solid from the beginning, and I had nothing to do with that aspect of the card. He's a fast learner, and he had a really good time playing with all of these things. I can't wait to see what he makes next! I'd love it if you let Gene know what you think of his card. I hope you'll visit the Sparkle Blends Shop on Etsy to see all of the currently available sequin mixes. Sparkle Blends are made in small batches, only once, so once they're gone, they're gone for good. You can use my code, "ALISON10" to save 10% off of your order (not including Bundles). Thanks so much for stopping by. Have an inspiring day!