Hi there! Today I have a card that uses 3 beautiful Sparkle Blends, with an alcohol ink background that I created. It was easy to coordinate my Sparkle Blends with my background, since Doodles Paper Playground has such a wide range of Sparkle Blends available, in so many color combinations.
I made my background with Gumball, Laguna, and Mojito Alcohol Inks from Ranger. The colors are vibrant and beautiful. I choose my Sparkle Blends based on those colors.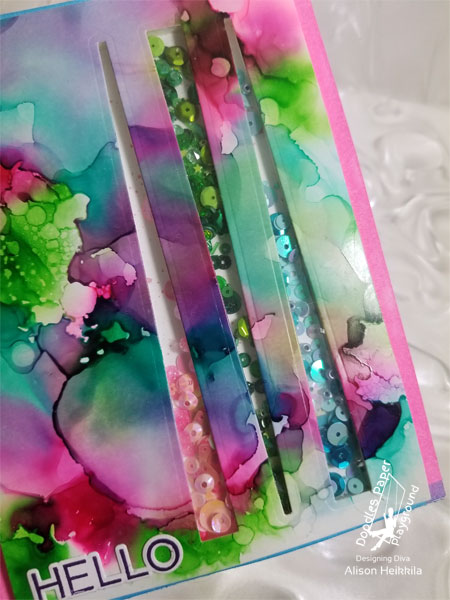 For my shaker windows, I used a long, skinny triangle from Altenew's Rain or Shine die set. I've used this triangle before for shakers, and I love how it looks. In the first window, I used the Precious Girl Sparkle Blend, in the second, I used Emerald, and in the third I used Sweet Boy.
I used a simple "hello" stamp and die from CZ Design, so that I wouldn't take away from the shakers or the background. On my card base, I inked the edges with Picked Raspberry and Peacock Feathers Distress Inks, and let them overlap in the corners to create purple.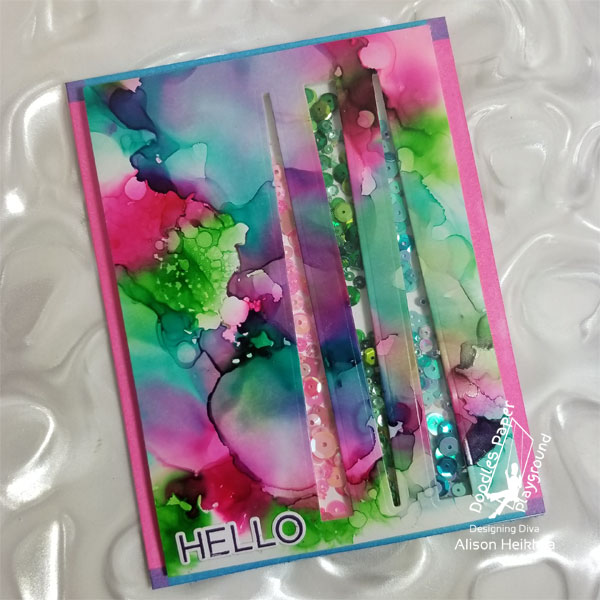 I love this card. The colors are so bold, the shakers are skinny and cool, and I think it's just fun. I enjoy using multiple Sparkle Blends on one card. Please be sure to visit the Sparkle Blends Shop on Etsy to see all of the available Blends. Some are really close to selling out (like Emerald!), and they do not get remade. You can use my code, "ALISON10" to get 10% off of your order, not including Bundles. Thanks for stopping by. Have an inspiring day!