Greetings and salutations! Today I have a new shaker card that I made for one of my sisters. During this time of physical distancing, since I can't see her (or my other sister), I decided to make them each a card. Of course they needed to be shaker cards too. So I broke out my Sparkle Blends from Doodles Paper Playground. You'll get to see the card I made for my other sister on 4/24/2020.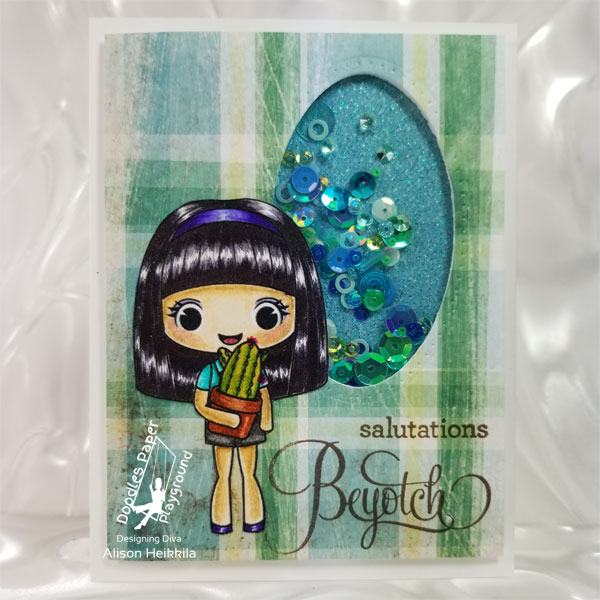 I found some amazing freebies from Stamp Anniething recently, and as soon as I saw this gal with her little cactus, I knew I had to color her for my sister. My sister has hair just like this, and she loves her plants. After I colored her, I chose my Sparkle Blend, which happened to be Mermazing. I did remove all of the shells and mermaids before I added the sequins to my shaker, but I can totally use them another time.
I happened to find plaid paper that went really well with my colored image and Sparkle Blend, and it saved me time from making a background panel. I paired the plaid with a turquoise glitter cardstock for behind my shaker window. Look at how pretty the colors are in that Sparkle Blend! I love the different shades of turquoise and green.
I found my fabulously snarky sentiment from a Simon Says Stamp & CZ Design set called "Salty Ladies." I apologize if this isn't your sense of humor, but it is very much that of my sister and I. I stamped it in brown, to go with the distressing of the plaid paper.
I am happy to report that my sister got a good laugh from this card, and she was excited to see that the girl looked so much like her. I hadn't been coloring people very often lately, but I've been in such a mood to. It's been fun getting back into it. It's also fun to choose the coordinating Sparkle Blends t go along with whatever I've colored. There are so many options, it's easy to find several Blends that will work with whatever you create! Have you checked out the new Sparkle Blends Shop yet? Be sure to use my code, "ALISON10" for 10% off of your total order, with no minimum. Head on over to see all of the Blends that are currently available. Thanks so much for stopping by. Have an inspiring day!