Hello! I am so excited that today is the grand opening of the official Doodles Paper Playground shop on Etsy! We introduced 10 brand new Sparkle Blends last night on the Doodles Paper Playground Facebook Page (if you didn't catch my Live video, you should head on over to watch it!), and there are lots of exciting things happening. I've got my first card using one of the newest Sparkle Blends right now, and I hope you like it. I am linking this post to the latest Simon Says Stamp Monday Challenge, which is "Floral Frenzy."
I decided to use the Turquoise Sparkle Blend, which is the last Blend from the Birthstone Collection, representing December. Not only are their beautiful shades of turquoise, but blacks and gunmetal grays too. It's really striking. I paired it with one of my favorite flowers, the hydrangea. This stamp is called Hydrangea Wings and it's from Stampendous.
I colored my stamped and embossed image using Brushos from Colourcraft in Turquoise and Sea Green. I considered adding additional depth to the flowers using markers, but I liked the look of simply the Brusho colors, so I left it as is. I also die cut the "Painted Hello" die from Simon Says Stamp out of black cardstock 3 times, and topped it with an iridescent blue watercolor from Finetec.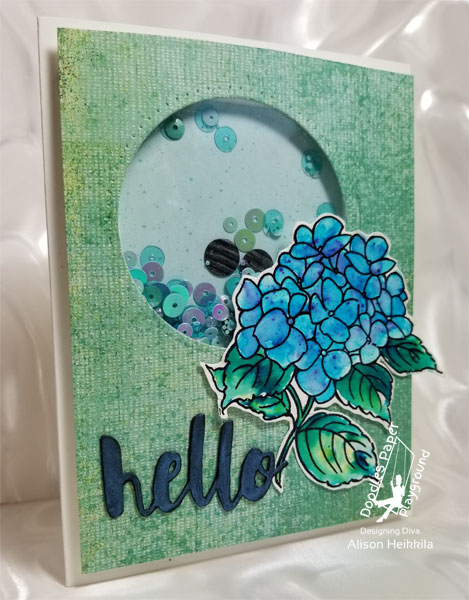 I dug really deep in my stash to find the perfect piece of Basic Grey paper to go on my background. It looks so good with the foliage of the hydrangea. Backing my shaker window is a piece of Spiffy Speckles blue cardstock from Lawn Fawn. The Spiffy Speckles paper has a subtle enough pattern to allow the Turquoise Sparkle Blend to really be the focus.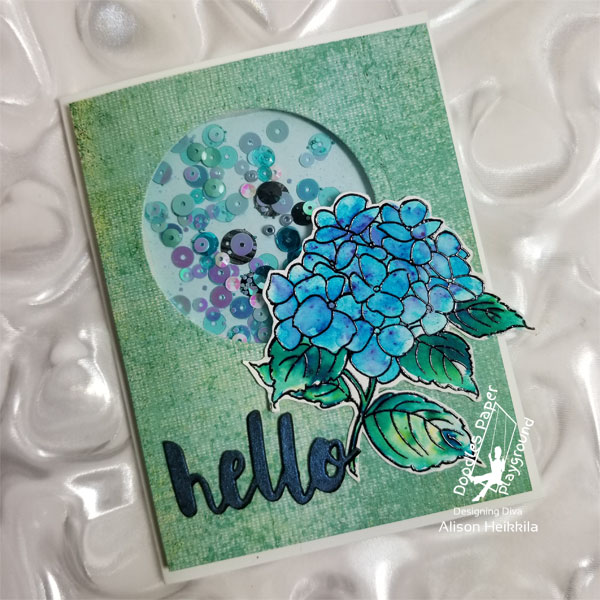 There's something really appealing to me about shaker cards that use a simple circular window, with a large focal image and a small sentiment. I love to make more intricate shakers, and to use various shapes, but there's something about a circle that I really like. Do you have a favorite window shape for your shaker cards? I'd love it if you left me a comment telling me what your's is. I'll be back with another project soon. Don't forget to check out the new Sparkle Blends Shop on Etsy! Thanks for stopping by. Have an inspiring day!