Hello again! I've got a new shaker that I've got to say, I really love. It's a pretty Winter scene that makes a lovely, yet subtle Christmas card. But, with a simple sentiment switch, it can be used for plenty of other occasions. For an interactive element, I used the "Diamond" Sparkle Blend from Doodles Paper Playground. It mimics stars or snow falling.
I was really inspired by the Sloping Hillside die that I used from Poppy Stamps. I thought it was perfect for a nighttime Winter scene, and of course, it is begging to be used for a shaker window. I cut the window out of cream cardstock and colored the trees with 2 Tombow Dual Brush Markers. I created my sky on white cardstock, and used makeup brushes with Dusty Concord, Seedless Preserves, and Faded Jeans Distress Oxides. To create stars, I watered down some white Gesso on an acrylic block, and flicked it on to my dry background.
I decided my front panel needed something else so I used my Woodgrain Layering Stencil from Tim Holtz with Old Paper Distress Oxide Ink. I created my card base out of cream cardstock, but I topped it with a piece of Kraft cardstock. Before I adhered it, I inked the 2 side edges with VersaMark Ink and sprinkled on Aged Hunter Embossing Enamels from Stampendous and heated the cardstock from the bottom. The large granules in this embossing powder mix don't stick to the ink because they're too heavy, so it's important to heat from below so that they don't blow away. You can see in the photo above the different sizes and colors in the mix.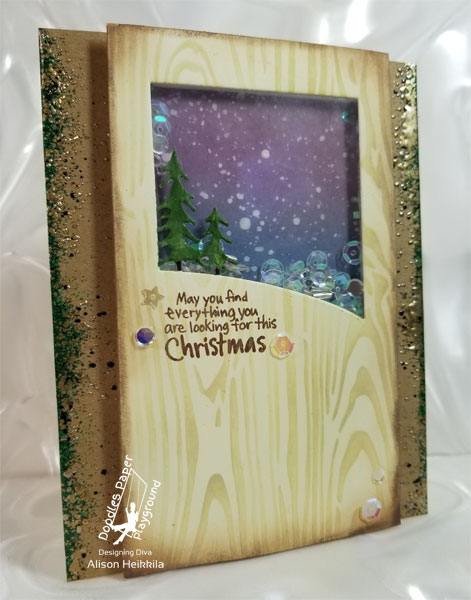 Also note the beautiful Diamond Sparkle Blend. I left out the large sequins that are in it because I didn't want to overpower the sky. This Blend is filled with opalescent sequins in many shapes and several sizes, plus little acrylic gems and stars. I added a few sequins to the outside of my card for added sparkle. For my sentiment, I used a stamp from Stampendous' Christmas Farm set.
I love that this card is both rustic and sparkly. I love the texture and dimension, as well as the soft quiet of the little scene. I could imagine creating this card with different colors in the sky, and even changing the colors of the Aged Embossing Enamels. And of course, you can switch up the Sparkle Blends used in the shaker window. Pearl, for example, would be lovely to use. You can head over to the White Rose Crafts shop to see all of the currently available Sparkle Blends from Doodles Paper Playground. Every sequin mix is unique and beautiful. You can use my code, "Alison 15" to save 15% off of your purchase. Thanks so much for stopping by. Have an inspiring day!