Hello! It is Day of the 31 Days of Halloween, and today I have a tutorial that I created for Imagine. I really enjoy working with wood so I created a raven plaque that can be hung on the wall or on a door. Keep in mind, that you can use any combination of images you'd like. If you're not a fan of crows, (gasp!) you can always use cats, flowers, stars, etc. I'm entering this plaque on the latest Simon Says Stamp Monday Challenge: "A Walk on the Dark Side."
I used a small unfinished wooden plaque for this
project. You can get these at any craft and hobby store. Mine is about 3″
x 4."
Using a 3/8″ Stencil Brush, I applied the
brown shade that is in the VersaCraft Velvet palette. VersaCraft ink is
fantastic for using on things that go way beyond paper. It's great on fabric,
for example.
After the brown ink dried, I swiped Real Black
(in the same palette) on the wood, following the grain to bring out the texture.
I focused a bit more heavily on the edges to make the piece appear aged.
Next I taped down my stencil. You'll notice that
the tape I used has been used before. I reuse my tape to minimize the
stickiness of it, so that nothing peels up when I remove it. I applied more
Real Black VersaCraft ink, this time to the crows, with my stencil brush.
Next I stamped my raven skull, using the
full sized pad of Real Black VersaCraft. I had it on hand already, so that just
made it easier to stamp, since the image is so large. This would have been the
perfect time to have a stamping tool like the MISTI. I would have liked to have
restamped the image, but since it is a cling stamp, it's a little tricky to do,
and I didn't want to mess up what I have done so far.
After that, I stamped my
"Nevermore" sentiment with VersaCraft. Again, I would have loved to
re-ink it, but that would have been a catastrophe for sure. I really need to
get one of those stamp platforms it seems….and that's not something I ever thought
that I would want.
I felt that the piece needed some more
of….something….so I splattered some Wedding Dress irRESISTables with a
liner brush, as well as some Golden Glitz Delicata ink. It added just enough
texture and shine. Then I simply drilled two holes at the top and added some
gold colored wire to hang it with.
I hope you'll give VersaCraft ink a try if you
haven't already. The colors are rich and opaque, and it is so much fun to
experiment on other surfaces! Please be sure to visit the rest of the Wicked Bloggers, listed below. Thanks for stopping by. Have an fangtastic day!
Supplies:
Imagine:
VersaCraft 12 Color Ink Pad: Velvet
VersaCraft: Real Black
irRESISTable: Wedding Dress
Delicata Reinker: Golden Glitz
Other:
Stampendous:
3/8″ Stencil Brush
ASCRS10: Andy Skinner Birds and Bones stamp set
DWLL432: Row of Crows Stencil
SSH57: Jumbo Acrylic Stamp Handle
Smeared Ink: Nevermore Stamp
Small Wood Plaque
Liner Brush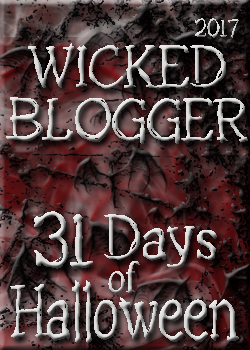 Lost Coast Designs/Carmen's Veranda
Alison (that's me!)