Hello! Recently, I shared a YouTube video I had made that used the Layered Bands stencil set from A Colorful Life Designs with patterned paper. You can check it out HERE. This month, the Layered Wavy Lines stencil set was released, and it's perfect for this technique as well.

*Some affiliate links are used in this post. That means that if you shop through these links, I may receive a small compensation, at no cost to you. For more information, please see my Affiliates page, where I also have some coupon codes.
In the YouTube video, I used papers that were all from one collection, to make mixing and matching easy. This time, all of the papers are from different manufacturers, to show that you can go through your stash and paly with many brands and still come up with a funky card.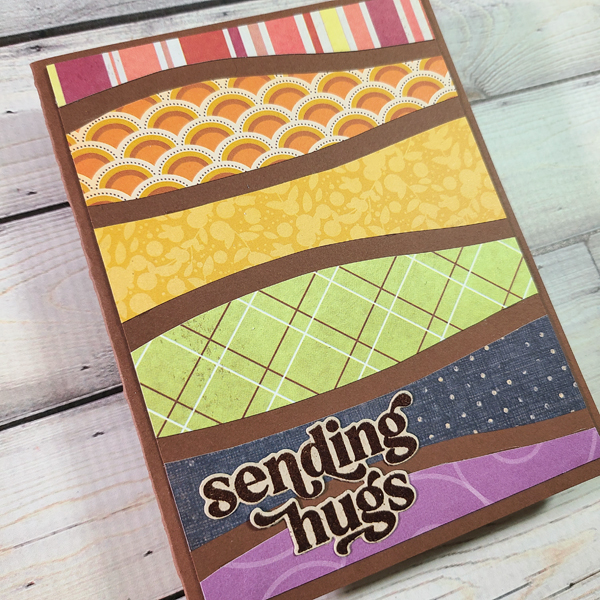 I went in rainbow order, since it's so pleasing to the eye, and I put everything on brown cardstock. The method of creating the card is exactly the same as in the YouTube video, minus the shaker window. My sentiment is from Pinkfresh Studios Perfect Sentiment stamp and die, which I made on Kraft cardstock and heat embossed with brown.
I love this card because you need minimal supplies, they can be customized in a billion ways, and they don't take a lot of time to make. This is the perfect type of card to make at a crop, when you know you will be socializing more than creating! Please be sure to visit A Colorful Life Designs to see the many, many stencils they have to offer. You can use my code, AlFan10 to save 10% off of your regular-priced purchase. Then, show off your creations in the A Colorful Life Designs Fan Group on FB. Thanks so much for stopping by. Have an inspiring day!