Hello there! Are you a pot head? No…not that kind. The coffee kind! I'll tell you that my husband definitely is. He looooves his coffee. So when I saw the Pot Head stencil from A Colorful Life Designs, I cracked up. Now, you can use this stencil for the other kind of pothead as well. And I think that would be great too. But today, we're sticking with coffee. I use 4 stencils on this card.

*Some affiliate links are used in this post. That means that if you shop through these links, I may receive a small compensation, at no cost to you. For more information, please see my Affiliates page, where I also have some coupon codes.
I began by stenciling the Coffee Pot on to white cardstock. This is a 6×9 stencil that has it's pieces separated by negative space so it's easy to ink each section. The coffee was done with Walnut Stain, the top was Black Soot, and the "glass" was Tumbled Glass. All Distress Inks. On top of that, I inked the Pot Head stencil with VersaMark ink, then heat embossed it with white. I cut the pot out and moved on to the background.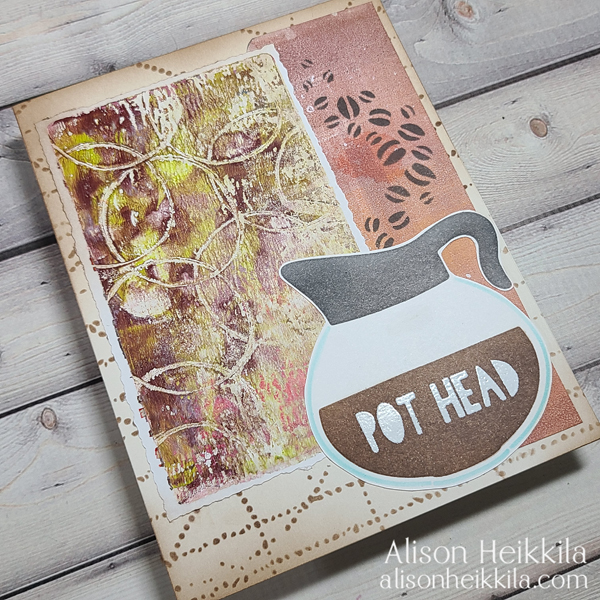 Directly on my 5×7 card base, I inked the Faded Lines stencil with more Walnut Stain Distress Ink. I added some additional residual ink around the edges of the card. Next I grabbed 2 Gel Press prints I had made. One was done with acrylic paints and a toilet paper tube, and the other was done with the Cappuccino Delight Kaleidacolor Inks from Imagine. On the Kaleidacolor monoprint, I stenciled the Coffee Steam stencil with Ground Espresso Distress Oxide. I layered everything together and attached it all to my base.
I love how all of these layers came together to make a funky card. Please be sure to visit A Colorful Life Designs to see the many, many stencils they have to offer. You can use my code, AlFan10 to save 10% off of your regular-priced purchase. Then, show off your creations in the A Colorful Life Designs Fan Group on FB. Thanks so much for stopping by. Have an inspiring day!