Hello! I'm Alison Heikkila and I am really excited to share the April Blank of the Month with you. This is a Blank I had been hoping for for a while, so I am glad it's available this month! It's a Garden Flag, and since I love gardening and changing out my flags seasonally, this is a perfect Blank for me. There's plenty of space to create your design on, so you have the opportunity to make something really unique and personal. I decided to make a "Fairies Welcome" flag using some really pretty dies from Hero Arts.

*Affiliate links are used in this post. That means that if you shop through these links, I may receive a small compensation, at no cost to you. For more information, please see my Affiliates page, where I also have some coupon codes.
What is Iron-On Ink?
Artesprix Sublimation Markers, Ink, and Paint are specially formulated to allow you to use basic copy paper to: color, stamp, stencil, and monoprint anything you wish and turn it into a heat-transferable design. These designs are then applied to a polyester or polyester coated substrate with heat and pressure. You can use a heat press or a home iron! These designs, through this process of sublimation, will become permanent on your substrates.
Materials:
Artesprix:
Garden Flag
Sublimation Markers- Bold Chisel
Sublimation Markers- Pastel Chisel
Brown Sublimation Ink Pad
Acrylic Stamp Block
Protective Paper
Heat Tape

Other:
Hero Arts: Mushroom and Ferns Die Set
Canson Mixed Media Paper
Craft Foam
Heat Source: Home Iron or Heat Press
Pencil
Scrap Paper
Step 1: Die cut each of the elements from the Mushroom and Ferns die set out of scrap paper and craft foam. You'll use the foam pieces for stamping and the paper pieces as masks for your design.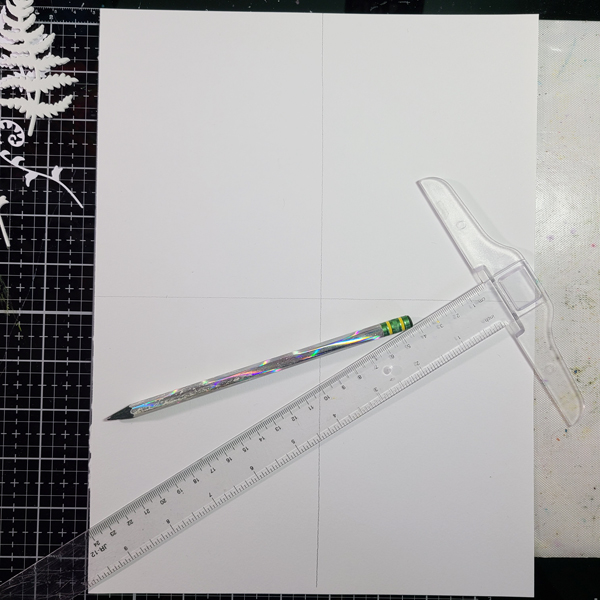 Step 2: Find the center of your paper. I used a T-Square with the zero centering ruler on my glass mat. This is so you can make sure your design is centered and straight.
Step 3: Temporarily adhere a mushroom to your acrylic block using a dry adhesive. You can now use it as a stamp. You'll want to start stamping with the die cuts you want in the foreground first.

Step 4: Color the foam with your Sublimation Markers. Try to avoid creating harsh lines by going back and forth. Instead, try circular motions on large spaces. "Huff" on the colored die cut (breathe on the stamp….the moisture from your breath will keep the pigments wet longer) and stamp it on to your paper.
Step 5: You can use multiple Sublimation Markers on one die cut. Here, I used two shades of green and blended them together. It's a little hard to tell here, but once you see my finished Garden Flag, you'll be able to see the variation of colors.
Step 6: Place the masks on top of the stamping you've already done to start creating the background. Here, you can see I covered my two mushrooms to apply the fern, which will look as though it's behind the mushrooms.
Step 7: Continue to build your design using the masks and stamps until you're happy with how full it is. You can see that I started adding additional ferns and mushrooms.
Step 8: Start adding the ground under and around your ferns and mushrooms with the Brown Sublimation Ink Pad. I used a small ink blending brush to apply the ink, and I made sure to have it heavy in some spots and lighter in others for more visual interest.
Step 9: Tape the paper (design side down) to a window, glass door, or use a lightbox. Write "Fairies Welcome" with pencil. Taping the paper to a window allows you to see your design through the paper so you can plan out your lettering.
Step 10: Flip the paper over and retape it. Now you can trace your lettering and it will be backwards. You need your words backwards so that when your design is sublimated, it's facing the right way. Once you're happy with what you did in pencil, you can use your Sublimation Markers on top. The paper doesn't need to be on the window for that part, since you already rewrote it in pencil.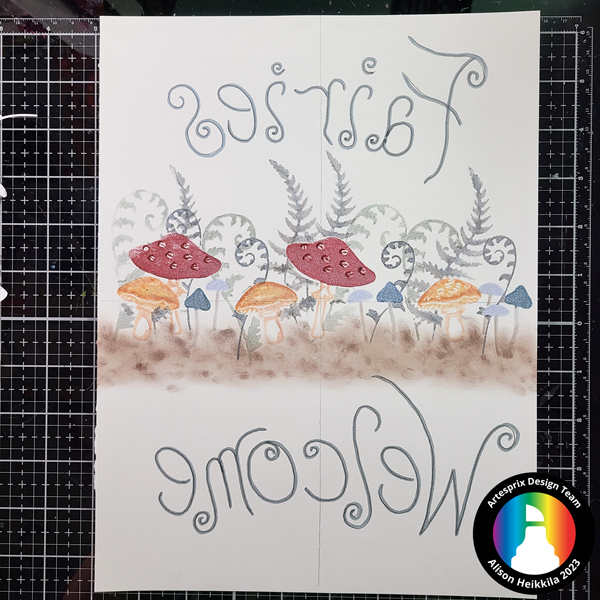 This is what my finished design looks like. I think it's really sweet.
Step 11: Using Heat Tape, attach the design face down to the Garden Flag. Be sure to have your Heat Press or iron warming up!
Step 12: Let's make the Sublimation Sandwich. Put a piece of Protective Paper under the Garden Flag, and then on top of the taped down design.
Step 13: Press the design at 400 degrees for 55 seconds if you're using a Heat Press.
Step 14: Time for the Peek Test! Let's make sure our design sublimated properly before we remove all the Heat Tape, so that we can redo the process if necessary. My design transferred great, so I can remove my paper.
Here's my finished Garden Flag next to the original design. It's so cute! Now I can display it in my garden.
This is such a great project, especially because it can be seen by everyone that goes past your garden! Don't forget you can only get the Garden Flag in April, so be sure to grab it. How would you like to get more ideas on using Artesprix's Sublimation Ink Pads, Markers, and Paint? There's a Facebook Group that's just for fans of Artesprix! You can click HERE to join. Also, don't forget to visit the Artesprix store to see all of the available blanks and bundles, so you can get started with sublimation. You can use my code, ALISON10 to save 10% on your purchase! Thanks so much for stopping by. Have an inspiring day!