Hello! I have a new tutorial for Imagine today and it uses some of my favorite types of inks: Kaleidacolor and VersaFine Clair. I'm going to show you how to use bold silhouette stamps, along with a detail stamp to get a unique "trapped rainbow" effect.

*Some affiliate links are used in this post. That means that if you shop through these links, I may receive a small compensation, at no cost to you. For more information, please see my Affiliates page, where I also have some coupon codes.
Step 1: Apply Tahiti Kaleidacolor Ink to a 6×6 Gel Press Plate. Gently tap the color. You don't need much.

Pro Tip: The Kaleidacolor Inks do not need to be clicked together. The pad does not reach across the entire surface, and the little area for your finger to click the colors together can get in the way of inking the Plate. I have mine hang over the edge, as seen above, then I flip the pad around to the other side of the Plate to finish inking it.
Your Gel Press Plate will look like this when you are done inking.
Step 2: Spray the Plate lightly with water.
Step 3: Lay a piece of cardstock on to the Plate. Gently rub your hand across the back of the cardstock. If you are worried about getting ink on your hands, cover the whole plate with a piece of copy paper and rub.
This is what the monoprint, or "pull" will look like. I love the bits of white showing…it makes it look grungy.
Step 4: Let's add some more interest by stamping a large text stamp on to our background. I inked this stamp up with Warm Breeze. Don't worry about what the stamp says, you won't be able to read much of it when we're finished.
Step 5: Dry the panel completely with a heat tool or embossing gun. VersaFine Clair ink stays wet for a long time, and we don't want embossing powder to stick anywhere just yet.
Step 6: Apply your silhouette stamp to an acrylic block. Stamp it all over the panel, without overlapping the images. It will be hard to see, so if you are having trouble, go back and forth between this step and the next.

Step 7: Sprinkle Clear Embossing Powder on to the stamped images and heat set.
You can see some of the shine from the embossed florals above. Don't worry, with the next step, they will be much easier to see.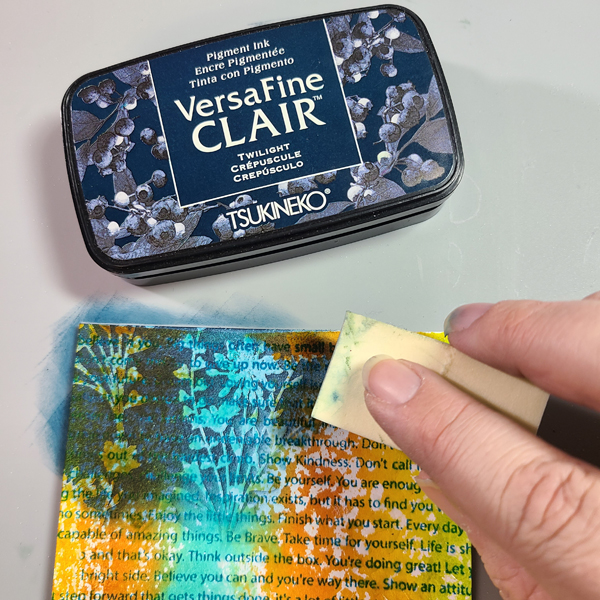 Step 8: Using a cosmetic sponge (which gives a nice heavy application), apply Twilight Ink across the entire panel. You will see that the areas that have been embossed will resist the ink.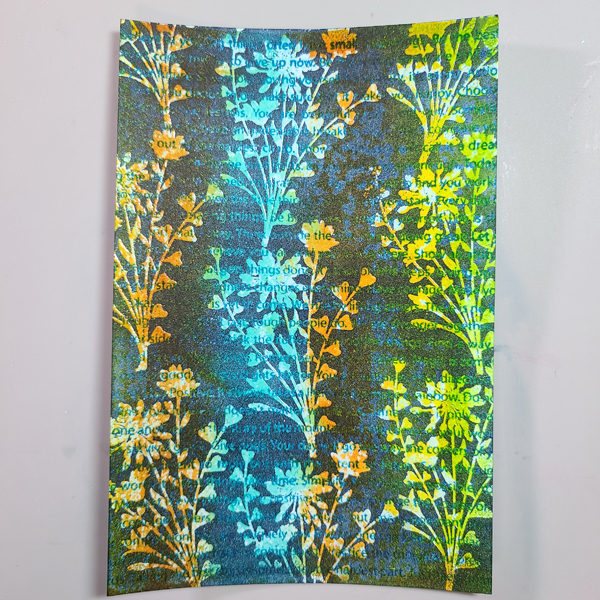 Step 9: When you are done inking the panel, buff off the excess with a dry cloth or paper towel. Trim the panel down to 4″ x 5 1/4."
Step 10: Apply New Sprout ink to your white card base, just around the perimeter.
Step 11: Die cut your sentiment. To grunge it up a bit, lightly apply Cantaloupe Ink to the top layer, which will bring out the texture in the cardstock.

Step 12: Adhere all elements to the card base.
Time to Complete: Approx. 45-60 Minutes
Difficulty: Intermediate
Supplies:
Imagine:
Kaleidacolor: Tahiti
Clear Embossing Powder
VersaFine Clair Ink in Warm Breeze
VersaFine Clair Ink in Twilight
VersaMark Ink
Memento Ink in New Sprout
Memento Ink in Cantaloupe

Other:
Gel Press: 6×6 Plate
Speedball: 6″ Brayer
Hero Arts: Floral Imprints
Trinity Stamps: Encouragement Text
Birch Press: Big Hugs Sugar Script Die
Other: White card base, light teal cardstock, pale orange cardstock, spray bottle of water, embossing gun, cosmetic sponge
You can of course change up the colors however you like! Kaleidacolor Inks come in a wide range of palettes. I hope you will try this technique for yourself. Thanks so much f stopping by. Have an inspiring day!