Hello! My son recently participated in a drone competition, and I wanted to make him a card to wish him well. I don't have any drone stamps, but I knew I had some fun robots from Clearly Besotted (discontinued) that would work great in a shaker card. I chose 2 Sparkle Blends from Doodles Paper Playground to work with, So Matcha Fun and Shoot for the Stars.

*Some affiliate links are used in this post. That means that if you shop through these links, I may receive a small compensation, at no cost to you. For more information, please see my Affiliates page.
I really liked the way the stamps looked on the carrier sheet, so I left a lot of them in place, and only moved a couple of word stamps and objects around. I liked that they were going in all different directions. My plan was to only color one robot, and it just so happened that the one I wanted to color was in the perfect spot!
I used old stamp packaging to make the shaker. Then, I colored the one robot with Copics and cut him out. I adhered him on the outside of the shaker front. The edge of the card base needed something extra, so I painted the edges with Pear Tart Fireworks! Spray from Imagine.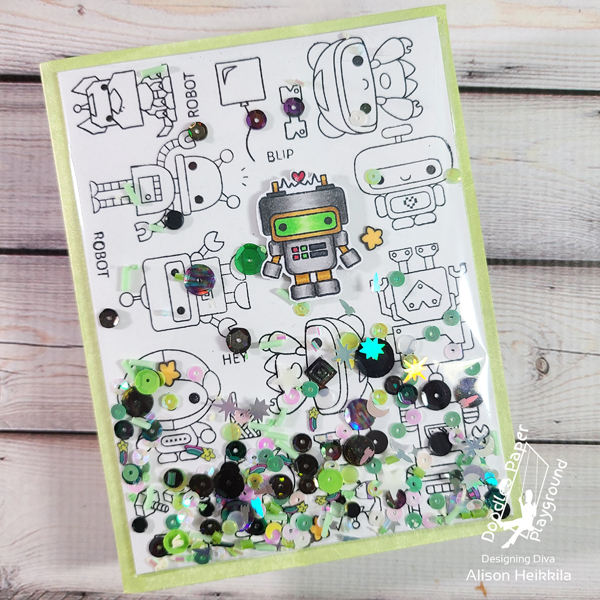 In case you were curious, yup…he loved the card. And, the competition went great! His team placed 3rd and 2nd during the 2 days of competing. Be sure to check out all of the awesome sequins mixes from Doodles Paper Playground over at the Sparkle Blends Shop. You can use my code, ALISON10 to save 10% on your purchase. Also, visit the Sparkle Blends Fan Club on FB for more inspiration. Thanks so much for stopping by. Have an inspiring day!