Hello! I'm Alison Heikkila and I am really glad you stopped by. I have a project for Artesprix today that started out purely as an experiment. I was so happy with the results that I needed to share them with you. We'll be making a double-sided Bag Tag today, and I think you're going to like how simple it is. 
*Some affiliate links are used in this post. That means that if you shop through these links, I may receive a small compensation, at no cost to you. For more information, please see my Affiliates page.
What is Iron-On Ink?
Artesprix Sublimation Markers, Ink, and Paint are specially formulated to allow you to use basic copy paper to: color, stamp, stencil, and monoprint anything you wish and turn it into a heat-transferable design. These designs are then applied to a polyester or polyester coated substrate with heat and pressure. You can use a heat press or a home iron! These designs, through this process of sublimation, will become permanent on your substrates.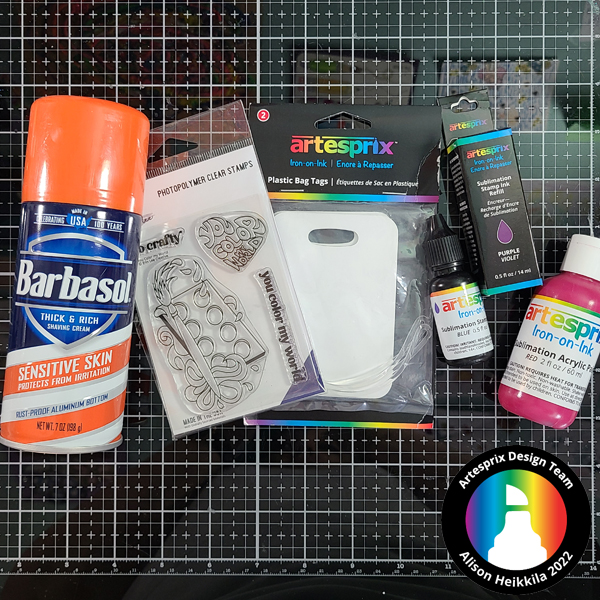 Materials:
Bag Tags
Acrylic Paint Set
Sublimation Stamp Pad-Black
Protective Paper
Heat Tape
Ink Refills (I used Purple, Blue, and Pink)
Heat Source: Home Iron or Artesprix Heat Press
Erin Lee Creative: Color My World Stamp Set
Shaving Cream (the cheap stuff)
Paintbrush
Paint Palette and/or small storage cups for mixed paints
Small tray or container for shaving cream (see my next photo)
Metal/Plastic/Silicone Scraper (you can even use a credit card)
Acrylic Blocks
Cardstock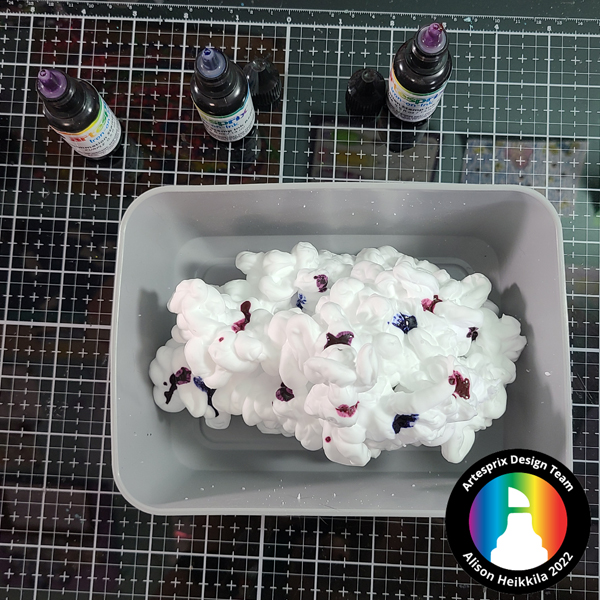 Step 1: Add shaving cream to your small tray or container. I added a lot more than I needed, but I was experimenting.

Step 2: Add a few drops of each reinker color to the shaving cream. I did about 4 of each color.

Step 3: Swirl the colors in the shaving cream with the back of a paintbrush. Don't over mix…you want to see a separation of color with some mixing. We're going for a marbleized look.
Step 4: Dip your cardstock into the colored shaving cream and push it in lightly so that the cream gets all over it.
Step 5: Hold your scraper at an angle at the top of your cardstock, and swipe down to remove the shaving cream. You should be left with marbleized color on your cardstock.
I wound up making four of these prints. I decided to use the 2 on the left, and I am saving the ones on the right for another time.
Step 6: Normally, you would trace your Blank (in this case, the Luggage Tag) with a pencil before you create your art. But in this case, I wanted to choose the area that had the nicest swirls of color. So I skipped the tracing and just taped my Blank on to my painted (dry) cardstock.
Step 7: Add a layer of siliconized paper to the top and bottom of your Sublimation Sandwich. Make sure your Protective Paper is cut bigger than your art and the headband. Your sandwich will be: Protective Paper-Blank-Colored Image-Protective Paper. The Protective Paper prevents any images accidentally transferring to either side of your Heat Press or to your home iron.
Step 8: If using a Heat Press, set the temperature to 400 degrees with the timer set to 60 seconds. For a home iron, set to the highest setting and use no steam.
Step 9: Peek Test! This is still one of my favorite steps…lift up part of the paper to reveal a bit of your design on the blank. Don't pull up too much, in case you need to re-press the image. Look at that awesome marbleizing!
I love how this came out! Those swirls of color were so easy to achieve! It came out so good, that I decided to do the other side of my tag, with some added stamping.
Step 10: Choose the area you want to sublimate on the second print, and trace your Blank around it.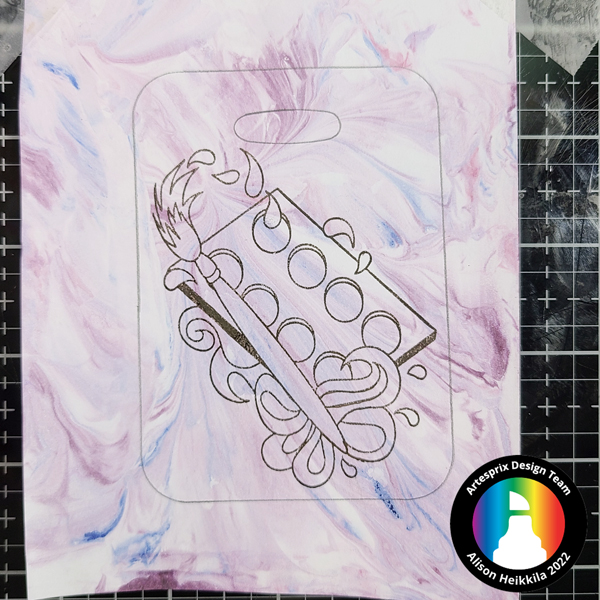 Step 11: Stamp the paintbox stamp with the Black Sublimation Ink Pad.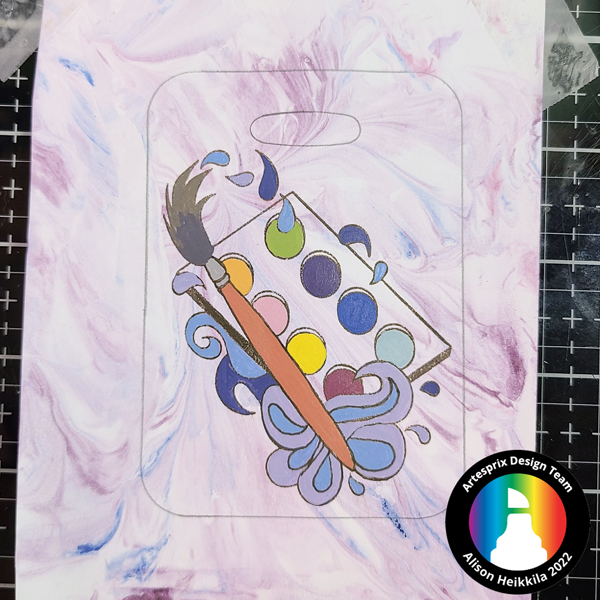 Step 12: Paint the image using your mixed Artesprix Sublimation Paints. You may want to give the lighter colors a second coat.
Step 13: Once again, tape down your Blank. Be sure to tape the white side down!
Step 14: Repeat the Sublimation Sandwich.

Step 15: Place the Sublimation Sandwich in the Heat Press and sublimate.
Step 16: Peek Test #2! It looks amazing!
Those swirling colors in the background look so cool with the paintbox! And now our luggage tag is decorated on both sides.

Step 17: Add the hanger to the luggage tag.
Here is one completed side.
And here is the other. I love them both! This was such a fun project. You can totally stop after you do the shaving cream technique, but I thought it would be fun to step it up a bit and paint on top of that swirly layer. How would you like to get more ideas on how to use Artesprix's Iron-On Inks, Paints, and Markers? There's a Facebook Group that's just for fans of Artesprix! You can click HERE to join. Also, don't forget to visit the Artesprix store to see all of the available blanks and bundles, so you can get started with sublimation. Use my code Alison10 to save 10%! Thanks so much for stopping by. Have an inspiring day!