Hello! Today I've got two cards to share, but they're not for a happy occasion. Losing a pet can be an extremely difficult thing. Our pets are family, so when they are no longer with us, we can go through a lot of mourning just like when we lose people. Have you heard about the Rainbow Bridge? It's been said that this is the way that our beloved pets get to heaven. It's a comforting thought. I know two folks that recently lost their fur babies, so I wanted to make them sympathy cards. A Colorful Life Designs has wonderful options for making simple, but meaningful cards for this type of occasion, and that's what I used today.

*Some affiliate links are used in this post. That means that if you shop through these links, I may receive a small compensation, at no cost to you. For more information, please see my Affiliates page.
I started off with the Layered Rainbow Bridge stencil set. The rainbow is really easy to make because the stencils have every other arch on it, so you have plenty of room to work without needing to mask off the arches. I used Distress Inks in the following colors: Festive Berries, Carved Pumpkin, Mustard Seed, Mowed Lawn, Prize Ribbon, Villainous Potion, and Seedless Preserves. I decided to cut the stenciled rainbow in half, since I needed two cards anyway.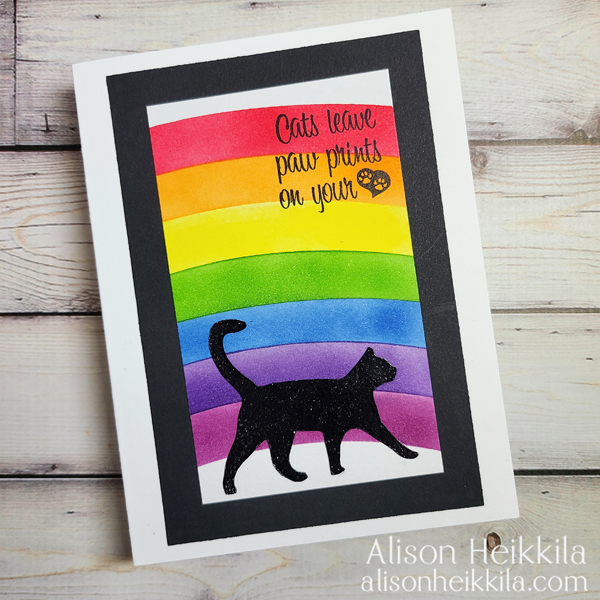 To personalize the cards, I inked up one of the dogs and the cat from the Rainbow Pets stencil with VersaMark Ink. Then I heat embossed them with black and fussy cut them. To fill in the white space of my card base, I opted to mat the rainbow with black cardstock. This really grounded the rainbow. I also added a sentiment to each card from Stampendous.
I have lost many pets over the years and it is never easy. The grief is real and so hard to get through. I hope that these cards remind my friends of the special times they had with their fur babies. Please be sure to visit A Colorful Life Designs to see the hundreds of stencils that are available. There are so many amazing stencils that are unlike any you may have seen before. You can use my code, "AlFan10" to save 10% off of your purchase, not including Master Bundles. Thanks so much for stopping by. Have an inspiring day!