Hey there! Thanks for stopping by. I've got an Infinity Shaker to share today that has a foiled background. It's got shine galore! Earlier in the month I mentioned that I made another card with a color combo I don't usually use. This is the card. You can check out the other post HERE.

*Some affiliate links are used in this post. That means that if you shop through these links, I may receive a small compensation, at no cost to you. For more information, please see my Affiliates page.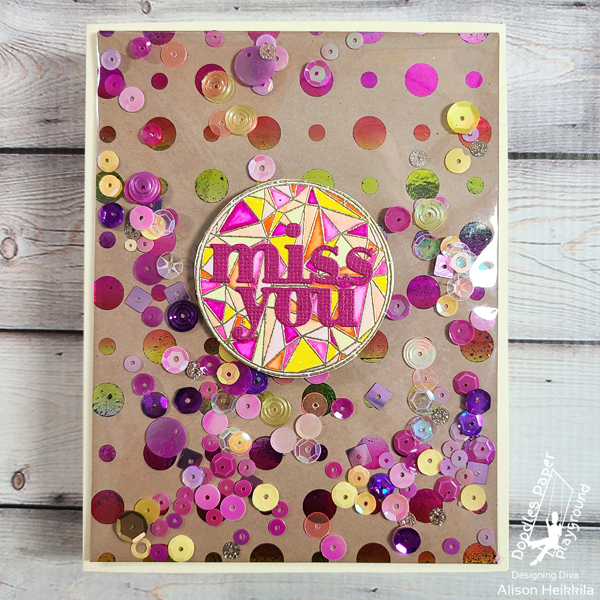 I don't foil too often…rather, I tend to do it in chunks. I make a lot of backgrounds with Therm O Web's Transfer Gel Duo or Blanco, grab a bunch of their Toner Card Fronts, and just get a bunch made at once since my laminator isn't out all the time. I was rifling through my stash the other day and found this "Lots of Dots" Toner Card Front which I foiled with the Summer Rainbow Deco Foil. I love that it's on Kraft. I took a piece of stamp packaging and wrapped it around the panel, and adhered it with a really strong double sided tape. I removed the backing off of 3 sides of the tape and folded the packaging over the panel, keeping the top open. Then I filled it with the "Go Bananas" and "Grown Up Grape Juice" Sparkle Blends from Doodles Paper Playground. I kept the clay bits out only because I didn't want the little fruit pieces in this particular card.
Seriously, the colors in those sequins perfectly match the Summer Rainbow Deo Foil. It's a pretty full shaker, but even if you look at a spot that doesn't have sequins, you see the gorgeous foil. On top of the shaker, I added a stamp from AALL & Create's "Raven" stamp set and a "Miss You" die from Simon Says Stamp. I used gold embossing powder on the circle and painted it with my Zig Clean Color markers and water.
So that's two completely different cards with this purple, yellow, orange and pink color combo. I think I need to go work with some teal now. 😉 Be sure to check out all of the awesome sequins mixes from Doodles Paper Playground over at the Sparkle Blends Shop. You can use my code, "ALISON10" for 10% off of your regular priced purchase, not including Bundles. Also, visit the Sparkle Blends Fan Club on FB for more inspiration. Thanks so much for stopping by. Have an inspiring day!