Hello! One of the newest stencils from A Colorful Life Designs is called Mum Mat. It's a big 6×9 stencil. And yes, I see the lovely petals of a mum, but I also see flames, and flames mean dragon in my world, so I decided to make a dragon card. Plus, I hadn't gotten to use the Happiness & Prosperity Sparkle Blend from Doodles Paper Playground, so this was a great time to break it out.

*Some affiliate links are used in this post. That means that if you shop through these links, I may receive a small compensation, at no cost to you. For more information, please see my Affiliates page.
I took some white Smooth Bristol Cardstock and sprayed the heck out of it with Dylusions sprays. I used Lemon Zest and Cherry Pie. They make a wonderful orange when they come together, and it really made Mum Mat look like flames. I cut the panel in half, and now I've got a second background for another card. Oh! Plus, I flipped the sprayed stencil on to another piece of Bristol for even more backgrounds!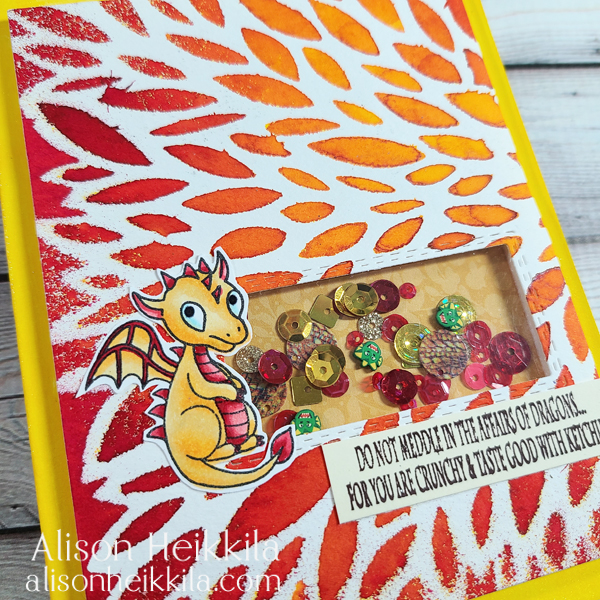 So I've got flames…now I needed a dragon. I decided to go with one of the cute little dragons from Sweet Sentiment's Baby Dragons stamp set. I colored him with Copics. Since I decided to make the card a shaker, I die cut a rectangular window and added the awesome Happiness & Prosperity Sparkle Blend. There are little dragon heads in the Blend! Plus, the red and gold sequins went perfectly with my stenciled background. I added a sentiment from the Baby Dragon stamp set, and painted the edge of my card base yellow with Dandelion Fireworks! Spray from Imagine.
I really love this new Mum Mat stencil. I am excited to use it to make something other than flames, because I think it's going to look terrific. Please be sure to visit A Colorful Life Designs to see the hundreds of stencils that are available. There are so many amazing stencils that are unlike any you may have seen before. You can use my code, "AlFan10" to save 10% off of your purchase, not including Master Bundles. In addition, you can use my code for Doodles Paper Playground, which is ALISON10. You can use the code on anything in the shop, except bundles. Thanks so much for stopping by. Have an inspiring day!