Welcome to the 2022 Autoimmune Awareness Hop. Autoimmune disease happens when the body's natural defense system can't tell the difference between your own cells and foreign cells, causing the body to mistakenly attack normal cells. There are more than 80 types of autoimmune diseases that affect a wide range of body parts. Giveaway info is below.

*Some affiliate links are used in this post. That means that if you shop through these links, I may receive a small compensation, at no cost to you. For more information, please see my Affiliates page.
Supplies:
Affiliate links are used whenever possible at no cost to you. That means the links will take you to specific online retailors, and if you choose to make a purchase, I may receive a small commission. This helps me to pay for my website and supplies. For more info, please see my Affiliates page on my blog.

A Colorful Life Designs: Organic Doodles
Ranger: Turquoise Alcohol Ink
Ranger: Mojito Alcohol Ink
Ranger: Everglades Alcohol Ink
Ranger: Rustic Wilderness Distress Ink
Ranger: 2.25″ Brayer
Gel Press: 6×6 Plate
Speedball: 4″ Brayer
Stampendous: 8×8 Acrylic Handle
Birch Press Designs: Big Hugs Sugar Script Die
Hero Arts: You Are Loved Messages
Doodles Paper Playground: Cool Starburst Rhinestones
Nuvo: Mica Mist in Fresh Pear
Imagine: On Point Glue
Imagine: Twilight VersaFine Clair Ink
Bearly Arts Glue
Other: White Heavy Body Acrylic Paint, White Card Base, Basic Grey Paper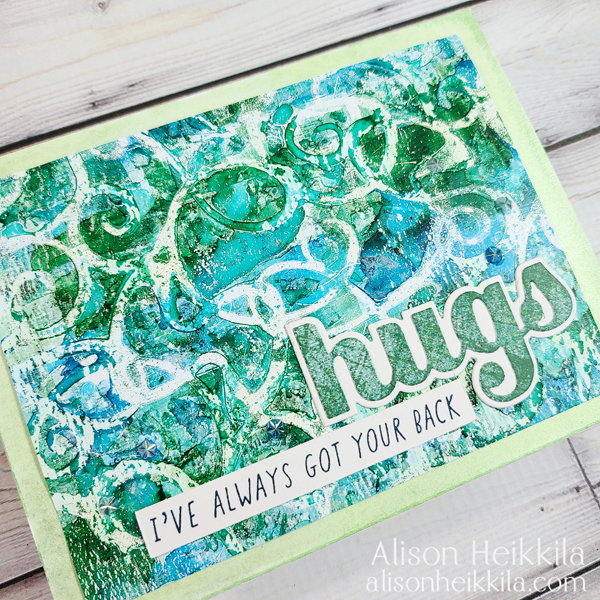 Giveaway Rules FOR A CHANCE TO WIN YOU MUST:
1) Be subscribed to Terra's channel: youtube.com/c/mayhamcraftycards
2) Leave a comment on this video
3) Follow on Instagram @mayhemcraftycards and @alisonheikkila
4) BONUS: each ADDITIONAL comment you make on other videos in the hop will count as an additional entry, so the more stops you comment on, the better your chances! This hop is also taking place over on Instagram and the same rules apply (you can also find them listed on Terra's IG post!), so head on over for more chances to win!
Comments must be made by Thursday, March 31st by 11:59 PM EST. The winners will be chosen at random from the comments left on ALL THE POSTS (Instagram & YouTube) on Saturday , April 2nd and will be announced here on Terra's YouTube and on her Instagram @mayhemcraftycards .
Here is the full hop list:

Terra ~ https://youtu.be/Kr3V4D07o3E
Marie ~ https://youtu.be/cuePE8VUZkM
Brooklyn ~ https://youtu.be/j8FnJLEKPn4
Chele ~ https://youtu.be/ZKmrTQTFzvM
Alison (That's me!) ~ https://youtu.be/z8gJwfWrFpI
Priyadras ~ https://youtu.be/INGLpEYs-ec
Rebecca ~ https://youtu.be/QCxSJxxI7A4
Yvette ~https://youtu.be/xNMmHDKugJ0
Joy ~ https://www.youtube.com/watch?v=6Hp_h5fFVVQ
Teri ~https://youtu.be/jzsEoH143AY
Ana ~ https://www.youtube.com/user/craftmeacard/videos
Cindyellen ~ https://youtu.be/OaA9Po_okbE
Susan ~https://youtu.be/7-kk7R7d55A


Thank you so much for hopping along with us!