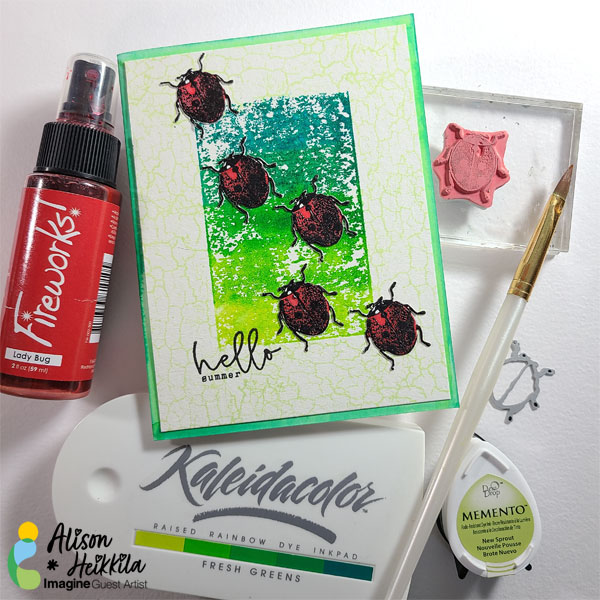 Summer is fast approaching and that means it's almost barbecue season! After many of us spent last year at home, isolated, I know a lot of folks are looking forward to spending summer with friends and family again. Today, I have a simple tutorial to help you make sweet invitations (or just regular greeting cards) using some of my favorite products from Imagine, like Kaleidacolor inks and Fireworks! Spray.
Skill Level: Beginner
Time to Complete: Approx 20 minutes, plus drying time.

*Some affiliate links are used in this post at no cost to you. For more information, please visit my Affiliates page. All products are linked at the bottom of this post.

Directions:
Stamp the ladybug from the Entomology stamp set 5 times on to Smooth Bristol cardstock with VersaMark Ink.
2. Sprinkle Black embossing powder on to the ladybugs, shake off the excess, and heat set.
3. Using Lady Bug Fireworks! Spray and a brush, paint the ladybugs. Once the color is dry on the paper, you should wipe the embossed areas with a cloth, to remove any excess.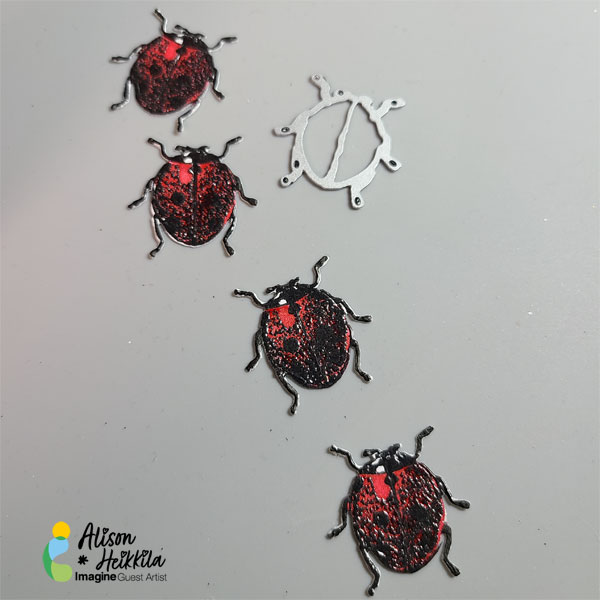 4. Die cut the ladybugs with the coordinating die.
5. Cut a piece of watercolor paper to 4″ x 5 1/4."

6. Swipe the Fresh Greens Kaleidacolor Inks across an acrylic block, and then spray with Ink Potion No. 9 a few times to get the colors to blend and move.

7. Place the inked acrylic block in the center of the watercolor panel, put something heavy on top (I used a tape dispenser), and leave for a few minutes. The texture of the watercolor paper allows for imperfect color transfer, which I happen to love. If you prefer a smoother look, use paper with less tooth, or texture.
8. Once you removed the acrylic block, stamp a subtle pattern around the edges with New Sprout ink. I used a crackle stamp from Stampendous.
9. To add color to my white card base, I pressed my Fresh Greens Kaleidacolor inks into my Craft Mat, wet my brush, and applied the 3 center colors to the edges. I kept the colors soft and slightly blended. Using the same inks for the border as we did in the center of the card allows us to have perfectly matched elements, but since they're applied differently, you create interest on your card.
10. Stamp a sentiment on the card with VersaFine Ink in Onyx Black. I combined a stamp from Erin Lee Creative with a stamp from Recollections to get the sentiment I wanted.

11. Adhere your ladybugs to the card front, and your card front to the base when it's dry.
Although this is a quick and simple card, you have a lot of color, interest and texture on it. I love the trail of ladybugs crossing the card. This invitation, or card, definitely screams summer to me.

Supplies:
Imagine:
VersaMark Ink
Black Embossing Powder
VersaFine Ink in Onyx Black
Fireworks! Spray in Lady Bug
Kaleidacolor Inks in Fresh Greens
Memento Ink in New Sprout
Ink Potion No. 9

Other:
Stampers Anonymous/Tim Holtz: Entomology Stamp Set and Entomology Die Set
Erin Lee Creative: Winter Magic Stamp Set
Recollections: Sentiment set
Acrylic Blocks
Small paint brushes
Strathmore Smooth Bristol Cardstock
Canson Watercolor Paper
White A2 card base