Greetings! I always enjoy taking part in The Daily Marker 30 Day Coloring Challenge because I have a bunch of ready-to-use images by the end of the month. But I don't always get to use them right away. From the time I colored Charlotte, from The Greeting Farm, I knew I wanted to use her with the "Apple for Teacher" Sparkle Blend from Doodles Paper Playground. She sat around in my craft room for quite some time, but I finally had the opportunity to use her on a card.

*some affiliate links are used in this post, at no cost to you.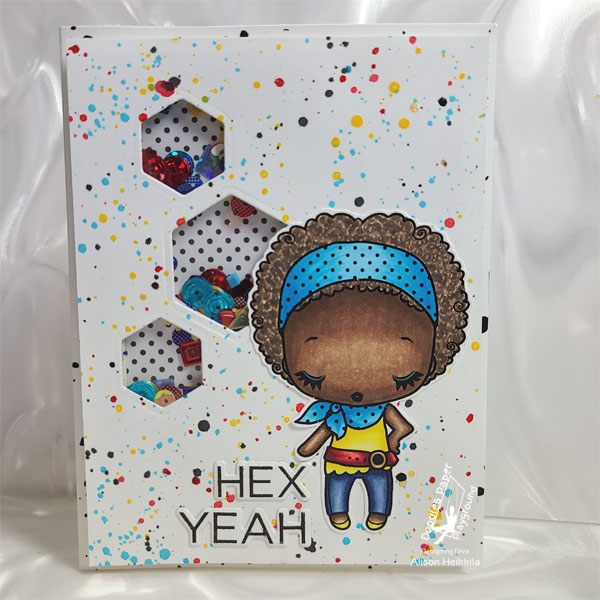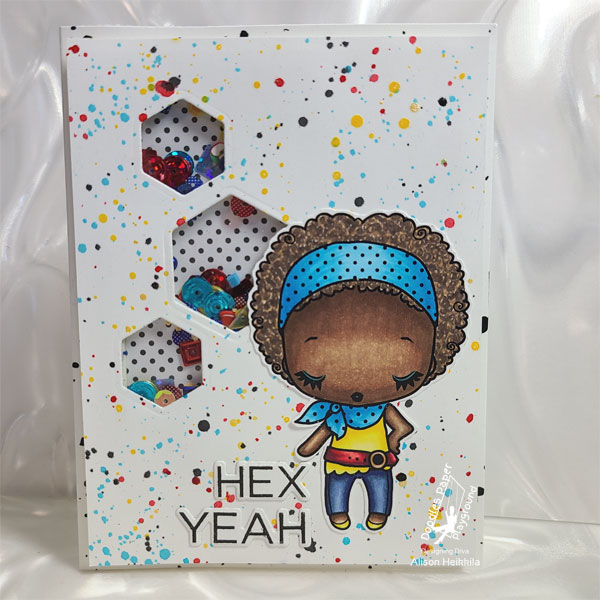 I colored Charlotte with my Zig Clean Color Markers, and I chose colors based on the "Apple For Teacher" Sparkle Blend. I pulled out 2 of my favorite dies, from one of my most used sets…the Hex Yeah stamps and coordinating dies from Simon Says Stamp. I die cut 3 hexagons to create my shaker windows, and I backed them with a polka-dotted cardstock. I separated each of the windows with foam tape, so that none of the hexagons would ever be empty.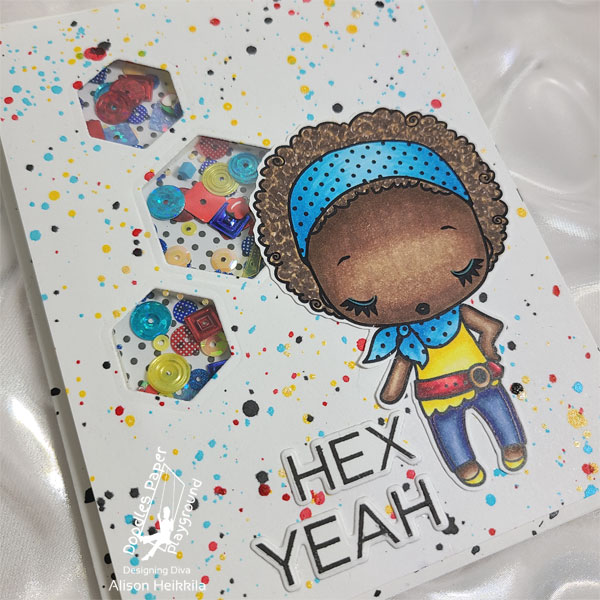 I like that this Blend has turquoise in it. It keeps it from being too childish. And I just love those polka-dotted sequins! I stamped and die cut my sentiment and thought it would be fun to splatter my entire background. I pulled out a black, red, and shimmer yellow Mister from Deco Art, as well as the Danube Blue Fireworks! Spray from Imagine. I hardly every actually spray these mists. I prefer the large droplets I get from opening the bottle and tapping the straw on to my card front. I applied the black Mister to my card base too. It's a simple background, but I think it works perfectly with Charlotte and the Sparkle Blend.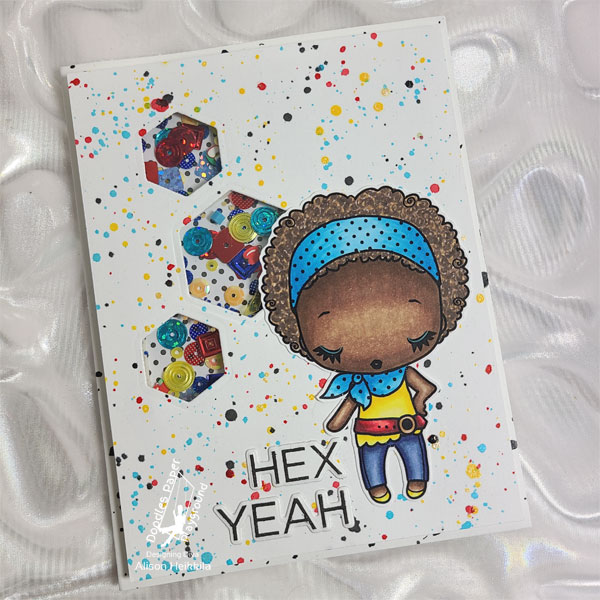 I really like having multiple images ready to go when I have time to use them. It's one of the reasons I enjoy the 30 Day Coloring Challenge so much. I also really like when an idea comes to fruition easily, like it did with this card. This card is part of the #JustStashJanuary challenge, where you use only what you already own in your craft stash. More details on that can be found HERE. Please be sure to visit the Sparkle Blends Shop on Etsy. You can use my code, "ALISON10" to save 10% off of your purchase, not including Bundles. Also, why not join the Sparkle Blends Fan Club on Facebook so you can join in on the fun we have there? I look forward to sharing my next project with you. Thanks so much for stopping by. Have an inspiring day!