Greetings! It's Tuesday, so I have a new Halloween project to share with all of you today for the #TillDeathDoUsCraft Halloween series. Truthfully, I haven't had a whole lot of time, as I was painting a pair of Nightmare Before Christmas Vans for my husband for our Anniversary. If you'd like to see them, please check out my Instagram Stories. So I made a quick card for today. For the month of October, the 7 participants will be posting on a specific day of the week, with everyone posting on October 1st and Halloween. It's a month long celebration without a time consuming hop. I will have the links to all of the talented ladies at the bottom of this post. On October 1st and Halloween, we will also be joined by Mona Toth. We will be sharing our projects on different social media platforms, so the easiest way to find them all, besides the links below, is by searching our hashtag, #TillDeathDoUsCraft .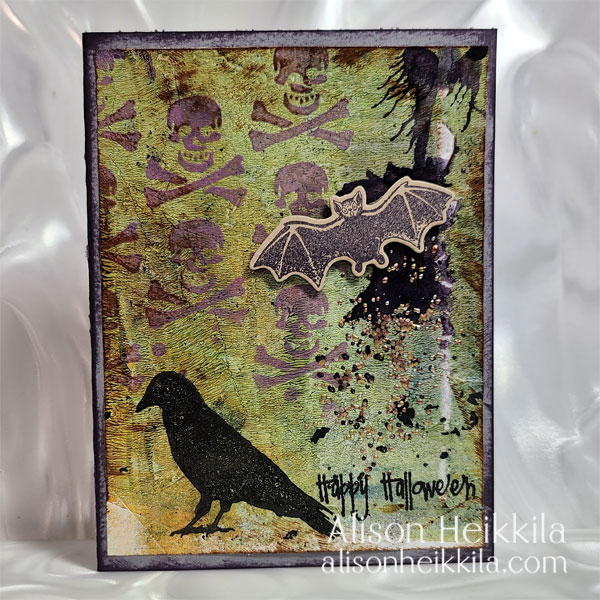 I started off with a monoprint that I had made. It's really just a roll-off print, which means it's the paper that I used to clean off the excess paint (Deco Art's Stylin' paint for fabrics) that was on my brayer. I really liked the colors and texture it created with all of the various layers, so I thought it was a good start to a background.
Because the paint on my paper is really for canvas and other fabrics, it left a glossy, non-porous finish to my paper, so inks weren't really drying on the paint. I used Crushed Grape Distress Oxide with a Tim Holtz stencil (the skulls) and decided to emboss it with clear powder to seal the ink. Then I just played with some random inks and powders….a little Eggplant Alcohol Ink, Chai StazOn around the edges, Seasonings Embossing Powder…I was really just playing. I also used a fantastic Tim Holtz crow stamp, and a really old bat stamp and die of his as well. My stamped sentiment is from Tiddly Inks. I mounted the panel on to a gray card base that I inked with Elderberry Memento Ink.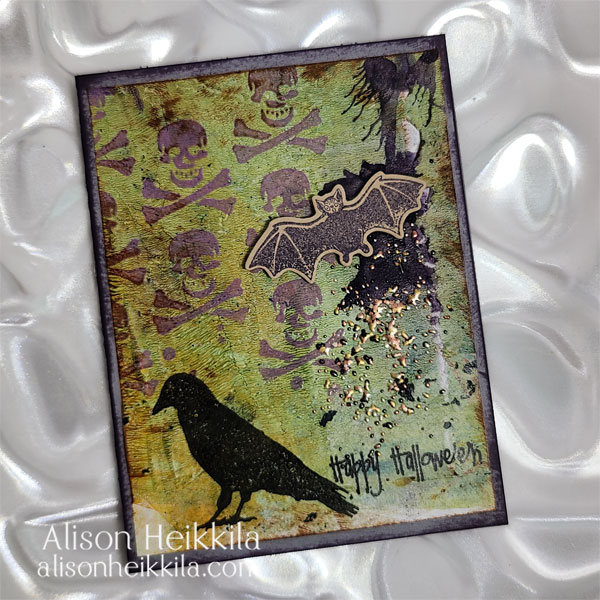 Considering how I kind of just threw this card together, I am really happy with it. I love the layers of color and the textures. I think that bold crow is a real stand out, but I also love the skulls. After working really hard on those Vans for my husband, I needed something free and imperfect. This was just what I needed. Want to see the shoes?
That's it for me today. I hope you'll visit the other #TillDeathDoUsCraft crafters. Their links are below. I'll have a post up tomorrow for the Cat Lover's Hop, so I hope you'll visit again. Thanks so much for stopping by. Have an inspiring day!
Here are all of the links that you can hop to:
Marney Miller
Alison Heikkila (that's me!)
Zsofia Molnar
Marie Walton
Nancy May
Terra O'Brien
Michele Margaret
Mona Toth (on Oct. 1st and Halloween only)