Greetings! I have been on a huge monoprinting kick since I have gotten a couple of new Gel Press plates. I love working with them, but I can easily make 25 sheets of prints in one sitting, so I need to use some before I make more. One thing that I like to do is to keep the monoprint as the focus, add a great sentiment, and a ton of Sparkle Blends around it. That's what I did on my card today, which features the Candy Corn Sparkle Blend from Doodles Paper Playground.
For this monoprint, I used my 6″ Gel Press, with the Impressables Repeat Circles plate, and fluid acrylics from Deco Art Media. I honestly can't tell you what colors I used, as I just gather a bunch of colors and play, without thinking. Monoprinting becomes almost like a meditation…I get in the zone, and I just make prints. It's freeing and very satisfying. After this print was dry and trimmed down, I used the Web Stencil from Sassy & Crafty to add more detail to the sides of the print. I kept it loose and imperfect.
I then added my sentiment which is from Sassy & Crafty's Happy Everything stamp set with Vintage Sepia VersaFine ink. Now I could finally add my Sparkle Blends! You can see I went a little hog wild with the sequins, but it's the perfect way to add not only shine, but texture too. The Candy Corn Sparkle Blend has pretty shades of orange, yellow, and white, plus little clay candy corn pieces, which I opted to leave off of this card. I glued all of my sequins down with On Point Glue. On my card base, I painted on a metallic orange spray to help really ground the monoprinted panel.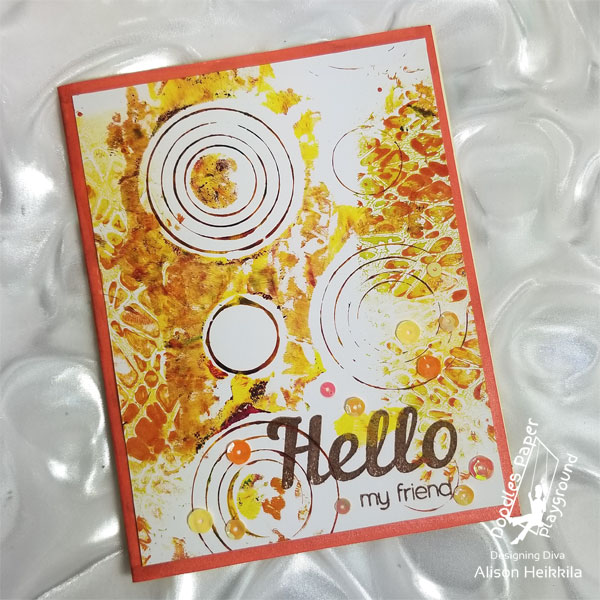 I really like how there's not only circular sequins on the card, but also all of the thin circles from the Impressables, which really help to move your eye around the card. You don't always need to make a shaker card to have impactful sequins, and I think this card is a good example of that. Be sure to head over to the Sparkle Blends Shop to see all of the gorgeous options that are currently available. Don't judge a Blend by it's name! Just because I used Candy Corn today, doesn't mean it needs to be Halloween. Each Sparkle Blend has so many wonderful bits in it, you can always change them to suit your needs easily. Feel free to use my code, "ALISON10" to save 10% off of your order, excluding bundles. Thanks so much for stopping by. Have an inspiring day!