Hello! Today's post is a very fun one, because I am a part of the CASE the Fellow Creator Blog Hop. A group of us decided to check out each other's creations, and then choose one to CASE, which means "copy and share (or steal) everything." I decided to CASE my friend Brianne Firth and her adorable "Spectacular Sky" card that you can check out HERE.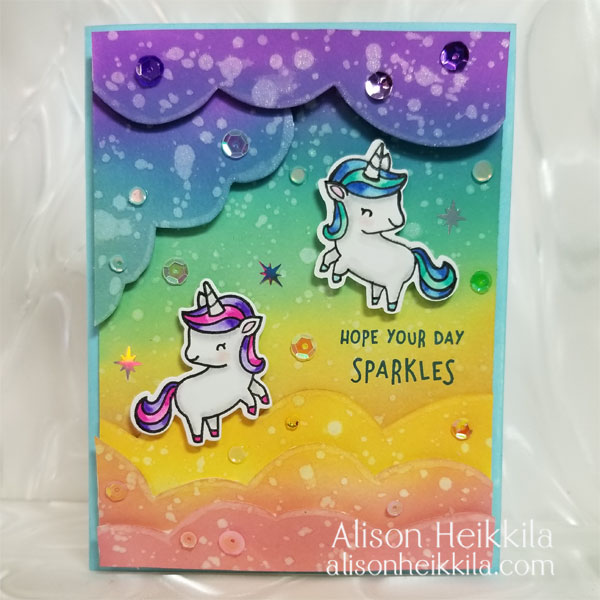 I started off with the unicorn from "A Little Sparkle" from Lawn Fawn. There is only one unicorn in the set, and I wanted a mirror image like Brianne has, so I grabbed my Mirror Stamping Plate from Stampendous to stamp my second unicorn. I colored them with my Zig Clean Color Real Brush markers and I used the coordinating die to cut out both unicorns.
Next, I created my background's base layer. I used Distress Oxides in Worn Lipstick, Wild Honey, Squeezed Lemonade, Cracked Pistachio, Peacock Feathers, and Wilted Violet. I reversed the order of colors that Brianne did. I splattered some Sheer Shimmer Spritz in Sparkle all over it and let it dry.
I don't have cloud stencils or dies, so I free-handed cloud layers. I inked them according to where I was placing them on the base layer, and added some Sheer Shimmer Spritz to all of those layers as well. I popped up several of the layers using different thicknesses of foam tape. I love the depth the foam (or lack thereof) created.
I added my sentiment with Twilight VersaFine Clair ink and popped up my unicorns. I of course needed more sparkle, so I took out a bunch of Sparkle Blends from Doodles Paper Playground and coordinated them with whatever color was behind where I placed them. So, purple sequins on purple ink, yellow on yellow, etc. All of my sequins was adhered with On Point Glue from Imagine. The last thing I did was run a Sparkle Marker from Crafter's Companion around the edges of the clouds for some more oxidation and shine.
I love how this card turned out. Brianne's card was such an inspiration for me. Her version is gorgeous, and I hope I did it justice. I think that I'll be creating more cloudy, magical backgrounds like this soon, because it was a lot of fun! Since this hop is a little different, I'm going to link you to Courtney Kreeber's Blog, who first came up with this idea. You can also go to YouTube, Instagram, or do a Google seach for the #CASEthefellowcreator hashtag to the other posts in this hop. And again, you can visit Brianne, who I CASED, HERE. Thanks so much for stopping by! Have an inspiring day!