Hello! I have a card that I have been mass producing to share with you today. With everything that's currently going on in the world right now with Covid-19, many crafters are making cards for the heros that are are all around us. Doctors, nurses, mail carriers, delivery truck drivers, sanitation workers, etc. I decided to make this card for local nurses and doctors. I know a few nurses, and I plan on handing these cards off to them to pass out.
When mass producing cards, I need to keep things simple…but I still want the cards to be fresh and cheerful. Last year, I had made a card similar to this one for the children in my nursery school class. It was quick to create, and the colors definitely make me smile, so making this card brought a smile to my face. I channeled my inner Laura Bassen for it, creating not only a rainbow like her, but using a geometric shape as well.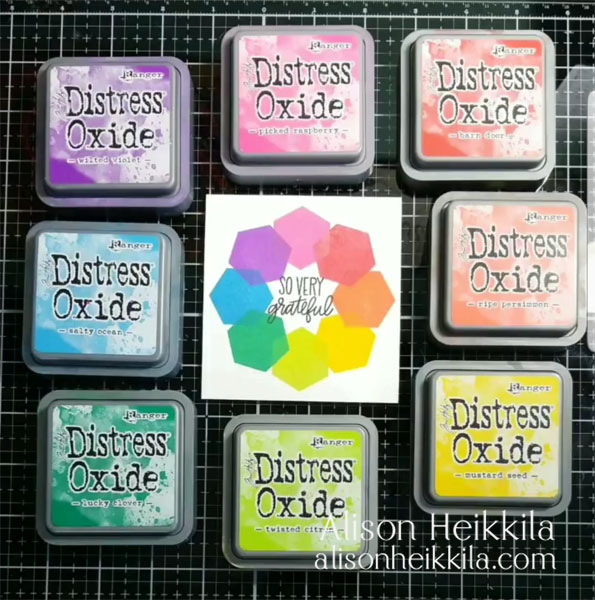 To create this card, I used my "Wreath Builder Template" from Gina K Designs, along with the solid hexagon from the Simon Says Stamp & CZ Design "Hex Yeah" stamp set. Of course, the Distress Oxides play a key role here. I used Picked Raspberry, Barn Door, Ripe Persimmon, Mustard Seed, Twisted Citron, Lucky Clover, Salty Ocean, and Wilted Violet. I love how Oxides stamp so creamy and beautifully. My sentiment is from an old Sweet Stamp Shop set. I used my Tim Holtz Stamp Platform with the Wreath Builder to ensure that everything stamped evenly and correctly.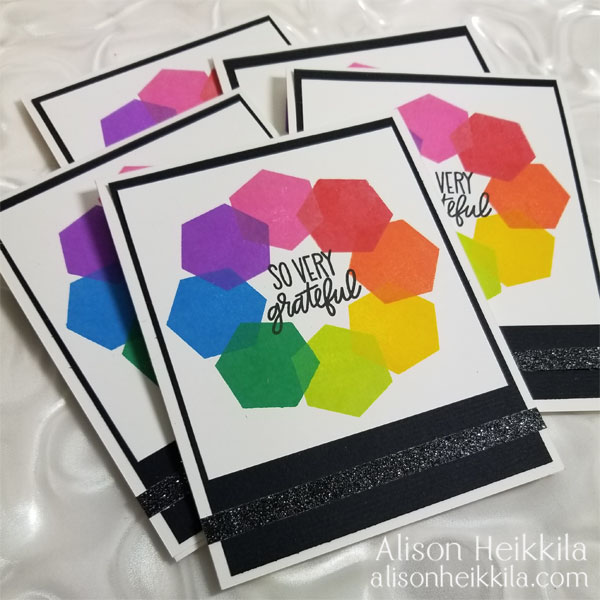 I cut a black mat to go behind my hex wreath, and I cut strips of black glitter paper from DCWV for a bit of sparkle without bulk. The process of stamping and putting the cards together is pretty quick, especially when you do them in an assembly line. I first cut all of my white squares, then stamped the Picked Raspberry hexagons on all the cards, then the Barn Door, etc. It goes much faster this way, as opposed to doing one card start to finish each time.
One thing I love is combining different companies together. I used several wonderful companies on this card, and it reminds me of how we all need to come together to do what we can to help each other right now. I plan on making more "assembly line" cards for healthcare workers in my area, though I haven't figured out how I want them to look yet. I like this geometric style because it works for everyone.
Seeing these rainbows come together totally make me smile. And I hope they give the recipients a reason to smile too. Thank you so much for stopping by. Have an inspiring day!