Hello! The White Rose Crafts Design Team is featuring Lawn Fawn this week, which makes me super happy. I just love Lawn Fawn, and their December release really had me smiling. I love the sweet little mice and their typewriters. I decided to make a card that's fairly simple to make, and actually has decoration on the inside, which I rarely do, for some reason.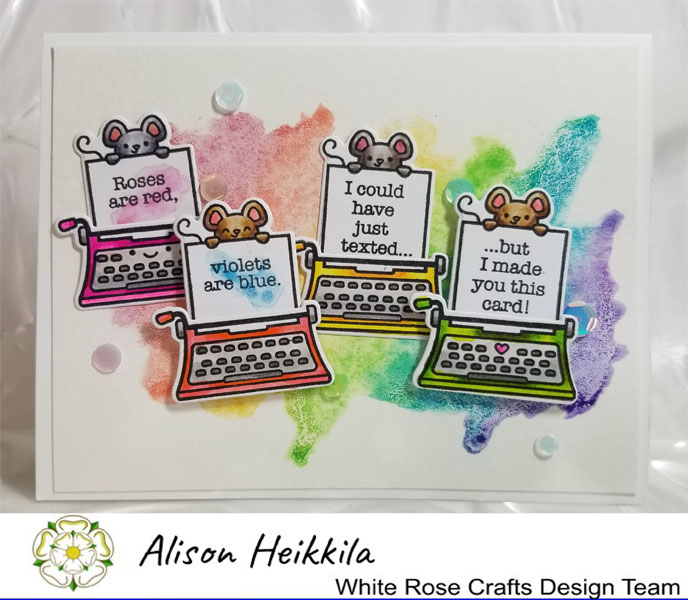 For this card, I used the Love Poems stamp and die set as well as the You're Just my Type stamp and die set. I began by stamping, coloring and die cutting 6 mice with typewriters. I only stamped the sentiments on after I had the other steps done, because I wasn't sure exactly how many mice I'd use. But I was happy to get all 6 on and in the card.
I love that you don't actually have to make a rhyme with these sets. And truthfully, they crack me up when they don't rhyme and you point it out. As you can see, I colored the typewriters in a rainbow, and I mimicked that rainbow in the background of the card front.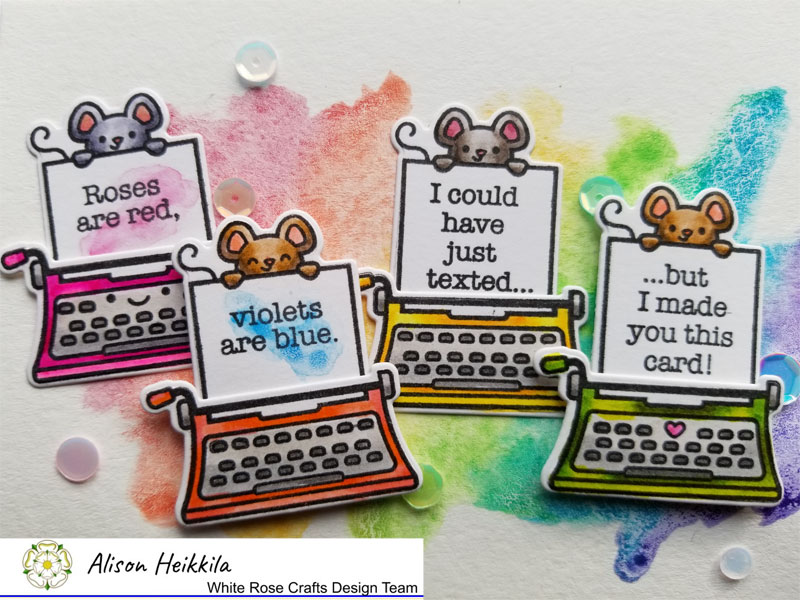 My card front was made with a piece of watercolor paper, and I painted my watery rainbow with my Koi watercolors. And, truth be told, I got a little pink ink on my "roses" sentiment, so instead of redoing it or trying to erase it, I just added some watercolor to it, as well as the "blue" sentiment. There are only "happy accidents," right Bob Ross fans?
I adhered the pink and yellow typewriters directly to my watercolor cardstock, and I popped up the orange and green ones. That dimension allowed me to tuck some of my sequins under the typewriters, which I thought looked really pretty. I adhered all of my sequins with On Point Glue.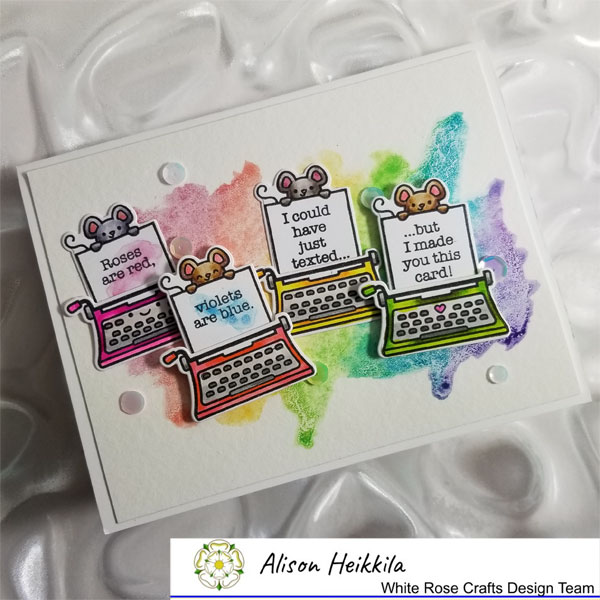 I really love how this card turned out. It can be duplicated easily, while still giving you the ability to change up the sentiments as you like. I am having so much fun with the newest Lawn Fawn release! Be sure to head over to the White Rose Crafts shop to see everything new that has arrived. You can use my code, "Alison 15" to save 15% off of your purchase. And, I'll be over in the White Rose Crafts Gallery on Facebook on Monday at 7PM EST making a card using some Lawn Fawn products. I hope you'll join me. I'll be back soon with a new project. Thanks for stopping by. Have an inspiring day!