Hello…er…howdy! I'm not sure why, but "howdy" is something my dad always used as a greeting. We're from New York. That's not a typical New York phrase. But it stuck with me. I decided to use the word on my card today. See, I've been playing with the CZ Design and Simon Says Stamp Everett Solid Letter Dies and I have been trying to come up with words that aren't always found on a card. I didn't want to just use "thanks" or "friend." So…howdy it is. I decided to make it a shaker card too, which adds to the quirkiness of the sentiment.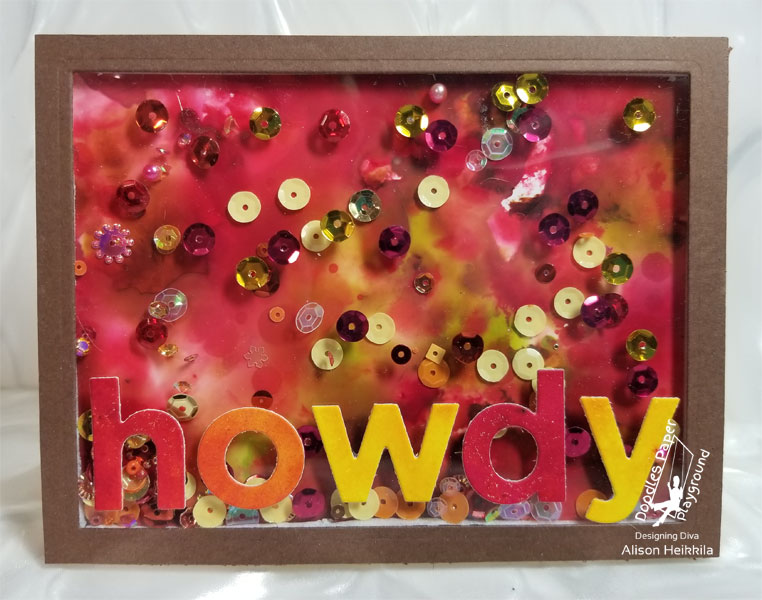 I started off by spraying my cardstock with 3 colors of Dylusions ink, and then I die cut the alphabet. I currently have not cut apart the letters, because I plan on doing things with the full panel of die cuts on future cards. There was red on top, followed by orange, into yellow, which explains why each letter is the color it is. I decided then to use the Flaming Sunset Sparkle Blend from Doodles Paper Playground, as it would tie all of those warm tones together.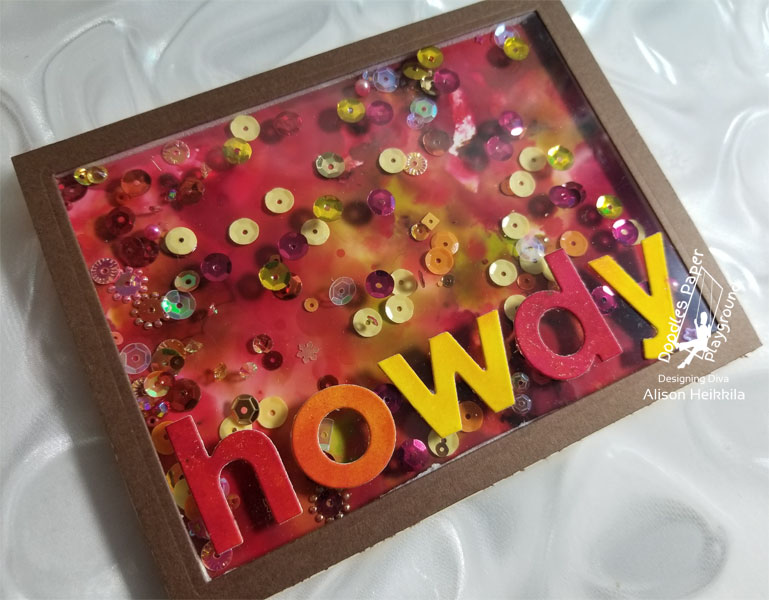 I used a Spellbinders die to create a thin frame for my shaker panel out of brown cardstock, and I adhered my "howdy" to the top of the acetate of my window. My inside layer was an old alcohol ink background that I created some time ago on glossy photo paper. I thought it worked really well with my letters and the Flaming Sunset Sparkle Blend. I used foam tape from Brutus Monroe, which is incredibly thick, so it allows those shaker bits to move freely.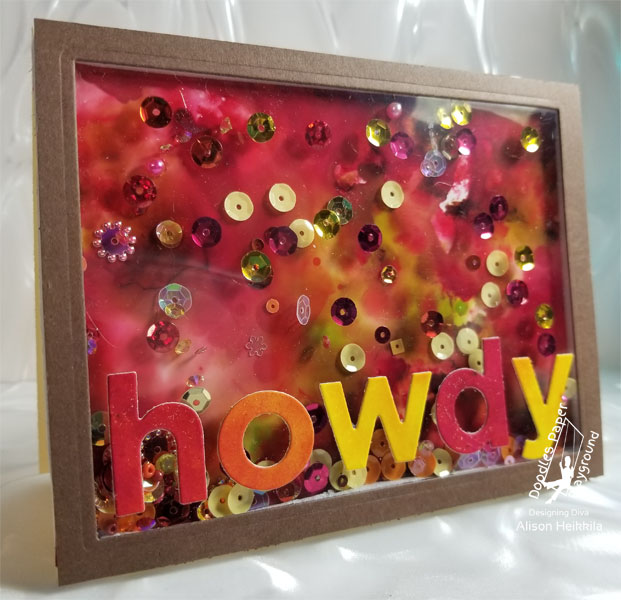 I love how bold this card is! I don't usually gravitate towards making projects with just red, orange, and yellow but I really love how it turned out! I especially love that because my foam tape is so thick, and because I made a full panel shaker, there's lots of movement and static electricity. So the sequins is really floating at different levels of the panel.
I really like when I can find an old background that I created and pair it with new products that I have. Later this week, I will be sharing another card that uses an old background. And I am so loving that Everett Die Set! Be warned…you'll be seeing me use it a lot! Thanks so much for stopping by. Have an inspiring day!