Hello again! It's Day 2 of the Doodles Paper Playground and Stampendous Blog Hop. Phoenix, Rhiannon, and I have 3 more projects to share with you today that use lots of products from both of these wonderful companies.
I chose to make a fun and festive shaker card today, and I used a sweet little chickadee stamp for my focal image. Unfortunately, I didn't realize that this exact chickadee is no longer available, but you can get a very similar one HERE. I colored the stamped image with Zig Clean Color Real Brush Pens and then I fussy cut it out.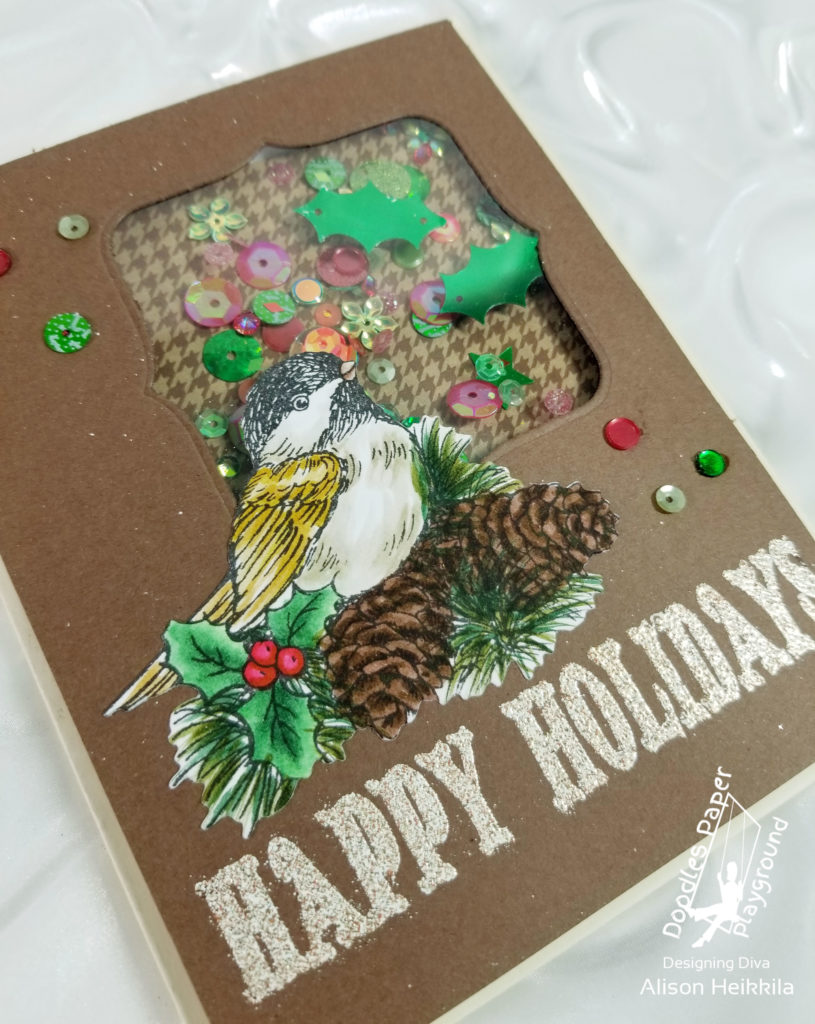 For my shaker window, I used one of the Fitted Frames from Stampendous. I absolutely love these die sets. The simple shape is elegant and easy to work with. I opted to go with a very traditional holiday palette, so using the Boughs of Holly Sparkle Blend was exactly what I needed. It has large holly leaves, many sizes and styles of sequins, and even some really cool dimensional flowers!
I backed my shaker window with a small houndstooth print from Doodlebug. My sentiment is from Stampendous' Holiday Wishes stamp set, and I embossed it with one of my favorite embossing powders, called Golden Sand. I attached a few sequins on the outside of the card, which is on a cream card base. I seem to have fallen into making "Rustic Sparkle" cards this year, and I am truly enjoying the look. Now, here's Phoenix's project.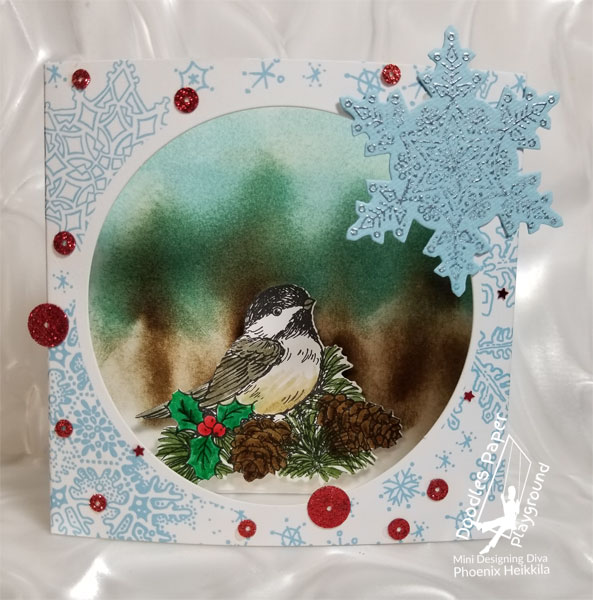 Phoenix wanted to use the WindowRama Winter Card Kit, so he let that guide him through the rest of his creation. He decided to work with the same chickadee stamp that I used, and he also colored his version with Zigs. He pondered the interior of the WindowRama for quite a while, and then he decided to create a forest. I am wowed by how he created it. He used makeup blender brushes in different sizes and several colors of Distress Oxide inks to make a distant, blurred forest. I think it came out awesome.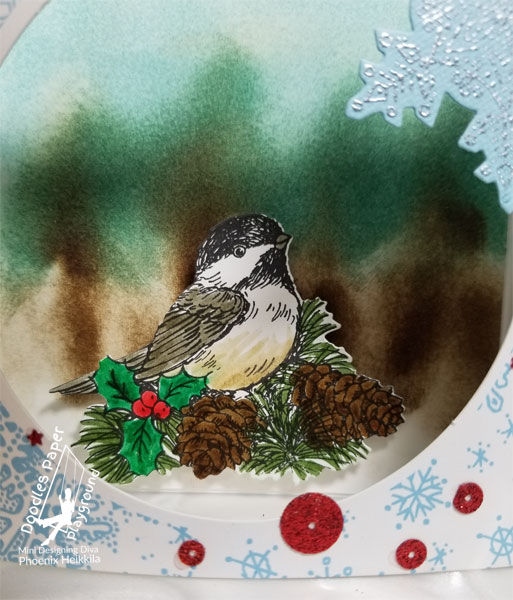 It's like a soft focus photograph! For the exterior of the WindowRama, Phoenix opted to use red sequins from the Candy Cane Sparkle Blend. He also decided to stamp a snowflake and heat emboss it for some extra texture and visual interest.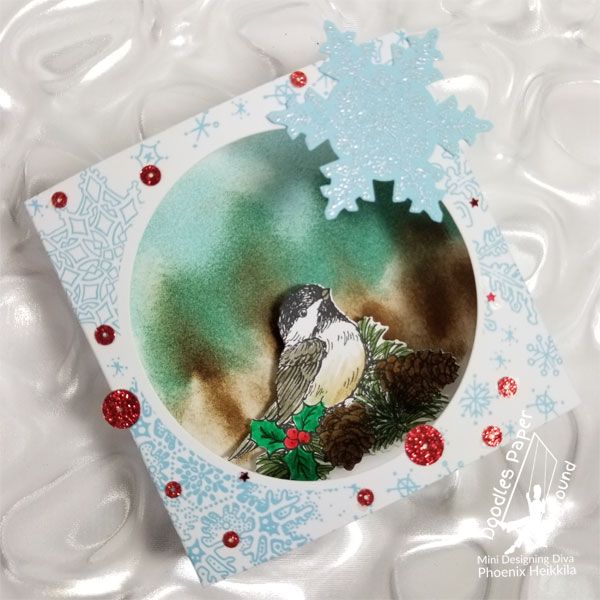 I love how Phoenix's WindowRama card turned out. The fact that these dimensional cards can still fit in a regular-sized envelope is very cool too. And now, last but certainly not least, here is Rhiannon's project.
Sometimes when Rhiannon is trying to figure out what to make, she sits for quite a while thinking, and then all of a sudden she gets an idea and she's off to the races. That's what happened here. She was looking through some of my Stampendous stamps and found the big 6″ x 6″ Winter Blizzard stamp. She heat embossed it on a 4″ x 5 1/4″ mat and then ink blended 3 Distress Oxides on top. I love her bold color choices.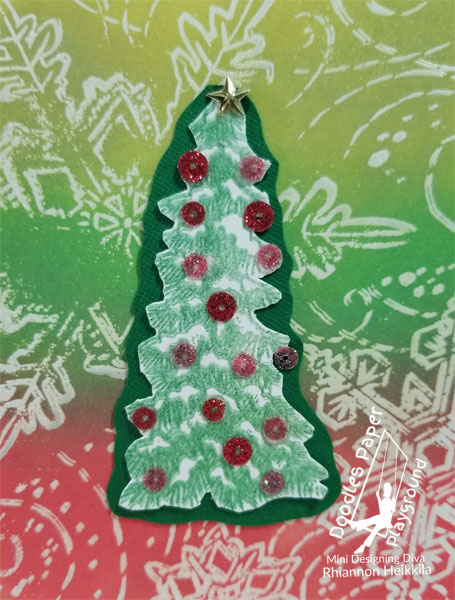 She decided to use a tree as her focal image, so she stamped one from the Woodland Deer stamp set. She thought that the tree was a little lost on the background, so she fussy cut a mat of green cardstock to go around it. Then she added glitter sequins from the Candy Cane Sparkle Blend and a single star from the Celebrate Sparkle Blend to top off her tree.
Rhiannon decided she needed a bit more sparkle, so before she adhered her top layer to her card base, she broke out some of Gina K's Glitz Glitter Gel in White and applied it with a palette knife around the entire border of her card base. It added lots of texture and shine to her already-beautiful card. I am so impressed with her knowledge of products and how to combine them is a very special way.
As I mentioned yesterday, this hop runs from 11/15/2019-11/17/2019. There are 3 terrific prize packs available that each have a value of around $30! How do you win? Leave each blog post some love, and 3 random winners will be selected. The hop links for Saturday and Sunday are listed below. Friday's hop links are in my post from yesterday.
SATURDAY:
Doodles Paper Playground
Alison Heikkila
Kathi Rerek

SUNDAY:
Doodles Paper Playground
Kathi Rerek
There have been some incredible projects made, and I hope that you think so too! This has been such a fun collaboration, and I hope we get to do it again soon. Don't forget to visit White Rose Crafts to get 30% off of your Sparkle Blend purchase for the duration of the hop using the code, "SPLURGE30." Thanks so much for stopping by. Have an inspiring day!