It is an exciting day because it's time for the latest Sparkle Blend Release Hop! Today I will be sharing not only my creation, but also one each from Phoenix and Rhiannon. So grab a snack and check out our projects! We will start with mine.
I decided to use the "Apple for Teacher" Sparkle Blend today. It has fun, bold primary colors and wonderful shapes in it, plus some adorable Fimo apples. I had recently gotten Mama Elephant's Fresh Fruits stamps, and I had been itching to use it. This Sparkle Blend was the perfect reason to break it out.
I started off by stamping my cut apple with Gina K's Amalgam ink. Then I created a mask of that same apple and stamped the full one. I did the same with my leaf. Next, I partial die cut my shaker window with a Gina Marie rectangular die. I did my die cutting before I colored, in case I made a mistake. To color my Golden Delicious apples (my faves), I used my Zig Clean Color Markers and a little water. I think they look pretty tasty!
Next I filled my shaker with the adorable "Apples for Teacher" Sparkle Blend. Do you see the little Fimo apples in it? I love the different shapes and primary color palette. I backed the window with a blue plaid patterned paper from Lawn Fawn.
I kept the rest of the card pretty simple because I wanted the shaker and apples to really stand out. I think this card can certainly be for more than just teachers. You can use it for many occasions, which is always a win in my book. Now let's move on to Phoenix's card.
Phoenix loves penguins, and really like the Penguin Party Sparkle Blend. He likes the different shades of pink, the triangular sequins, the the sweet little Fimo penguins that are in the Blend. He decided to use that as his jumping off point, and chose to use the Mama Elephant "Little Penguin Agenda" stamp set. He stamped, colored, and fussy cut 3 penguins and created a faux Polaroid picture using the Lawn Fawn "Selfie Frames" die set. He even drew in his own igloo!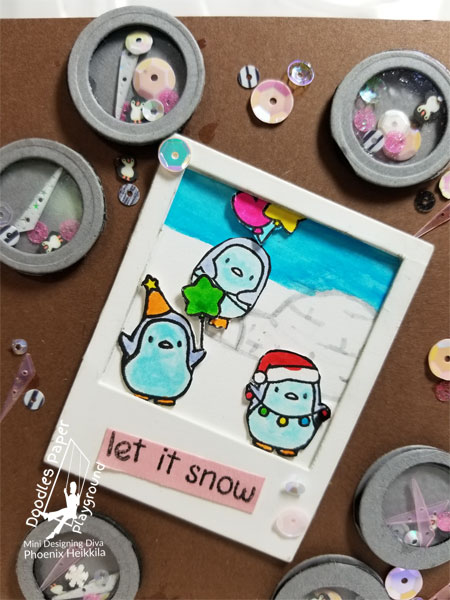 His sentiment is from Lawn Fawn's "Critters in the Arctic" stamp set. Phoenix decided that he wanted to make a bunch of little shakers for his card. So he used 2 small circle dies, made a bunch of frames, ad filled them with the "Penguin Party" Sparkle Blend.
I thought this was a fun and unique way to get lots of shakers on a card. He also decided to add some additional "free floating" sequins to the exterior of the card.
Now we'll move on to Rhiannon's card, that took a lot of time and patience to create.
We love fairies in our house, so we were all really excited to finally have the Lawn Fawn "Fairy Friends" stamp set. She carefully colored (with Tombow Dual Brush markers) and fussy cut each of her fairies and their house out. She created her background with different colors of cardstock and 2 markers for her blades of grass.
Then she painstakingly added each of the individual sequins from the new "Pawsome Pets" Sparkle Blend with On Point Glue and a Jewel Picker. Look at the beautiful colors in that Blend! Isn't that the prettiest walkway ever? She left out the Fimo dogs, kitties, and paws, for obvious reasons…but know that they are in this Blend,just waiting to be used on your cards with animals.
Next, Rhiannon created a sun and colored her card base a beautiful shade of hot pink. It really makes the rest of the card stand out. I love the shading she did on her elements, and I appreciate all of the time she took to add each of the sequins to her path. I love her card.
So there you have it! 3 cards, using 3 of the newest Sparkle Blends. Thank you for getting through this whole post. I know it was a long one, but the kids and I had a lot to share. Here are the rest of the links in the hop:
Doodles Paper Playground
Alison, Phoenix, and Rhiannon Heikkila (you are here!)
Annie Collins
EK Gorman
Meghan Kennihan
Berina Febin
GIVEAWAY DETAILS:
Open Internationally. You must leave comments on each leg of the Blog Hop by 10/20/19 to be eligible to win one of the following prizes. Winners will be notified in a post here on the blog, no later than 10/25/19. We are giving away SIX Prize Packs this month, each one featuring one of our new blends, at least one coordinating stamp set, either coordinating dies or a second stamp set, at least 2 ink cubes & 6 sheets of coordinating 6×6 patterned paper!
For our GRAND PRIZE, one of these 6 winners will be randomly selected to receive Mini Packs of the Full October 2019 Release in their prize pack!
Each of these packs has an approximate value of at least $15.00! (Grand Prize Value is approximately $24.00!)Rules: You must be at least 18 years old to enter. Open internationally. To Enter, leave comments on each leg of the blog hop no later than 11:59pm EST on Sunday, October 20th, 2019 to be eligible to win one of our 6 prize packs. Winners will be notified within a blog post on the Doodles Paper Playground Blog no later than 11:59pm EST on Friday, October 25th, 2019. Winners will have 5 days to email DoodlesPaperPlayground@gmail.com with their address info to claim their prizes. Any unclaimed prizes will be redrawn and shipped to a runner up.
That's it from the Heikkila Family! Thanks so much for stopping by. Have an inspiring day!