Hello! I am really excited to share this card with you. I have always loved looking at and making shaker cards, but now that I am on the Doodles Paper Playground DT, I really try to push myself to come up with new designs for my shaker cards. I decided to go through my Altenew dies to see if anything struck my fancy. I found the sun ray from the Rain or Shine die set and thought it was perfect. I had really been wanting to make a rainbow of Sparkle Blends, and I thought this would totally work. I also made this in honor of Pride Month, which I know was June, but I wasn't able to post this card then.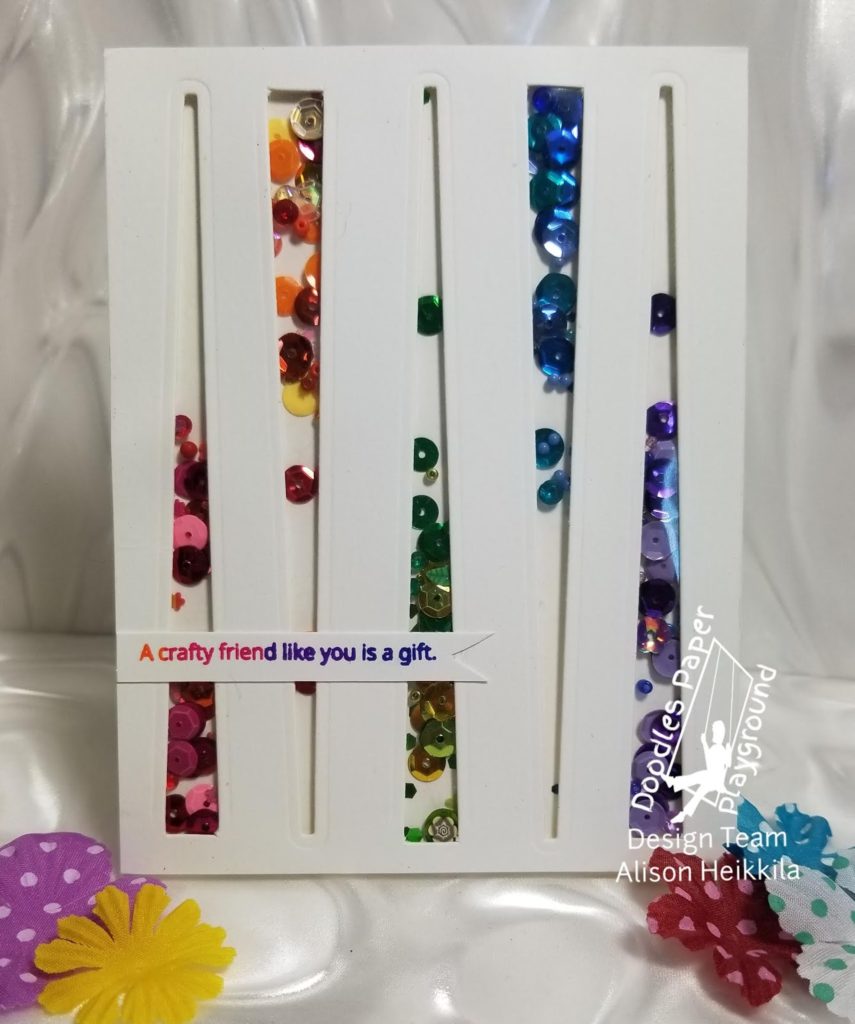 Look at those fabulous colors! So here's the list of Sparkle Blends that I used: Strawberry Fields, Flaming Sunset, Test Your Luck, Ocean View, and Purple Passion. Because I don't really have a super yellow blend, plus there wouldn't have been enough room for an additional ray, I used Flaming Sunset and Test Your Luck because they each have yellows and golds in them. The card actually came together pretty easily. I think the hardest part was making sure I lined up the rays properly each time I cut one so that they were even across the card. But even that wasn't very difficult at all.
I went back and forth about what type of sentiment strip I wanted, if any. I thought I was going to use black with white words, but it just took away from the rest of the card. So I opted to use a white strip with the Spectrum Kaleidacolor ink pads from Imagine. The colors were perfect and the sentiment stands out without being distracting. I used an Altenew sentiment from the Crafty Friends stamp set.
I am really happy with how this shaker turned out. And I love that even though there are a lot of windows, because the ray die is so narrow, you really don't need to use a ton of Sparkle Blends in each channel. This could even make a really fun baby card using soft pastel colors, or perhaps even simply using the same Sparkle Blend in each channel. Either way, I think I'll be making more of these. Please be sure to visit White Rose Crafts LLC to see all of the current limited edition Sparkle Blends that are available. And please visit the Doodles Paper Playground Blog to see more fabulous projects using Sparkle Blends. Thanks for stopping by. Have an inspiring day!