Hello! This week, the Stampendous team is highlighting some of my favorite things…stencils!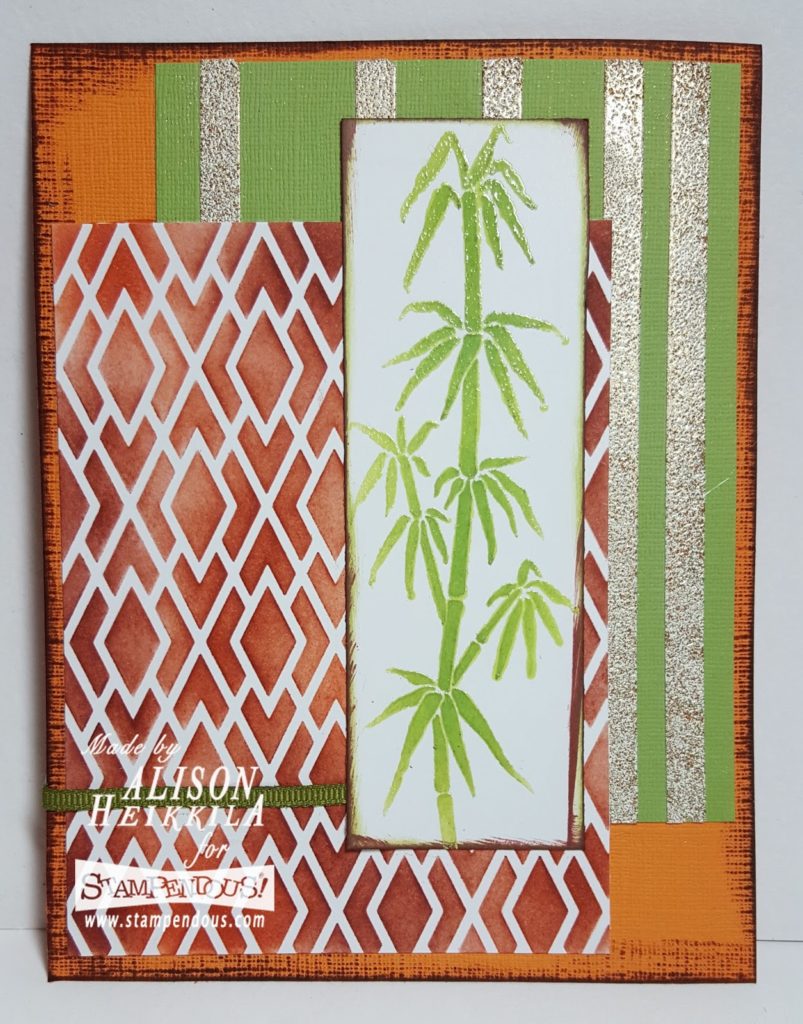 Supplies:
Stampendous:
DWLL533: Long Bamboo Metal Stencil
DWLJ807: Southwest Border
TRANSLUCENT: Clear Embossing Powder
EJK07: Bronze Encrusted Jewels Kit (using the Golden Sand Embossing Powder)
MPW811: Mixed Media White Paper
DWNHB-12: 1/2″ Stencil Brush
Other:
My Colors Cardstock: Sweet Potato and Grasshopper
Imagine: Tear It! Tape, VersaMagic in Key Lime, Tea Leaves, Memento Ink in Cottage Ivy, Kaleidacolor in Cappuccino Delight, Sponge Daubers
Beacon Adhesives: Zip Dry Glue
May Arts: Ribbon
Directions:
1. Tape the Bamboo stencil to Mixed Media Paper.
2. Using the sponge daubers, ink the bamboo using VersaMagic in Tea Leaves and Key Lime, then ad some depth with Cottage Ivy Memento Ink.
3. Remove the stencil, and emboss the image with Clear Embossing Powder.
4. Trim the image and ink the edges with Key Lime.
5. Tape the Southwest Border stencil to Mixed Media Paper.
6. Using the stencil brush, ink the stencil using the 3 darkest shades of ink in the Cappuccino Delight Kaleidacolor ink set. Apply the color randomly to achieve varying tones throughout the stencil.
7. Trim the Southwest Border image.
8. Cut a piece of Grasshopper cardstock to 5″ x 4."
9. Apply strips of Tear It! Tape to the Grasshopper cardstock. I started the pieces close together and widened the gap as I moved left.
10. Sprinkle Golden Sand embossing powder on top of the tape and heat.
11. Create the card base out of Sweet Potato cardstock, cut to 6 1/2″ x 10."
12. Ink the card base with the darkest shade in the Kaleidacolor set.
13. Glue all of the layers down with Zip Dry.
14. Add a piece of thin, green grosgrain ribbon on top of the Southwest Border.
Below are the other gals posting today. Please visit them to see their creations. Thanks for stopping by. Have an inspiring day!