Hello! This week, it's all about stencils with Stampendous. We have been featuring Fran's Stencil Duos as well as some of her single stencils. Below is my project that features the Holly Pattern Stencil. It's so pretty.
Supplies:
Stampendous:
FMS4043: Holly Pattern Stencil
DWLS92: Merry Christmas Stencil
DWDGP: Gold Embossing Paste
DWDPK: Palette Knife
AC672HSR: Red Holograph Dot Sparklers Class A Peels
DCP1005: Fitted Frames Set A
EP175: Jeweled Gold Sparkly Embossing Powder
VM001: VersaMark Ink
Others:
My Colors Cardstock: Firecracker, Evergreen
Imagine Crafts: Golden Glitz Delicata Ink
Beacon Adhesieves: Zip Dry Glue
Metallic F/X Powder: Forestry
Directions:
1. Using Firecracker cardstock, tape down the Holly Pattern stencil, and apply the Gold Embossing Paste with the Palette Knife. Remove and wash the stencil. Sprinkle Forestry Metallic F/X powder into the wet paste and let dry.
2. Brush off excess Metallic F/X Paste and apply smallest Red Holograph stickers to the berries. Trim cardstock, leaving a small blank border around the pattern.
3. On Evergreen cardstock, tape down the Merry Christmas stencil and apply Gold Embossing Paste with the Palette Knife. Remove and wash the stencil. Let the paste dry.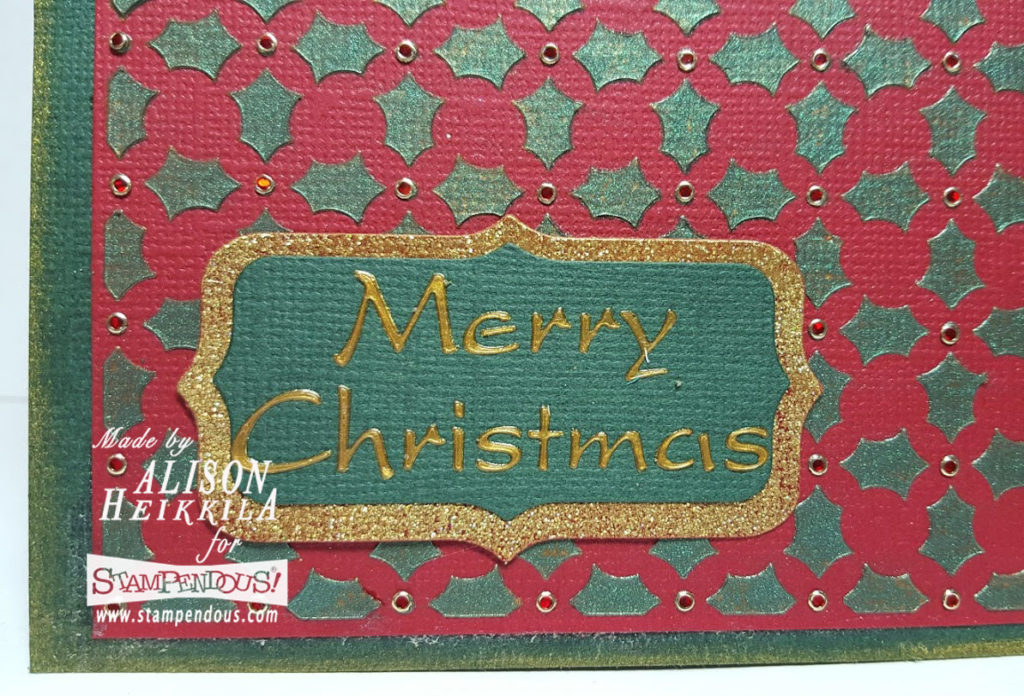 4. Create the card base out of Evergreen cardstock to the size of 5 1/2″ x 8." Ink the edges with Golden Glitz Delicata ink.
5. Die cut the Merry Christmas using the small "L" Fitted Frame. Cut a piece of Firecracker cardstock and using VersaMark, ink the entire red die cut and sprinkle Jeweled Gold embossing powder on top. Heat set from underneath.Using the Large "L" die cut the embossed piece to create a mat.
6. Glue all layers using Zip Dry Glue.
Below are the rest of the team that has projects to share with you today. Thanks for stopping by. Have an inspiring day!