This is a very exciting week for the Stampendous team! We are hanging out with the ultra cool Deco Art Mixed Media team, each using each other's products to share some incredible creations with you. These companies go hand in hand, so using each other's products is easy. And the results are amazing. We are of course featuring Andy Skinner's stamps, who is the DecoArt International Education Coordinator. And yup, there are prizes! But I want you to go to the Stampendous Blog for all of that info. The link is at the bottom of the post. Now, on to my project.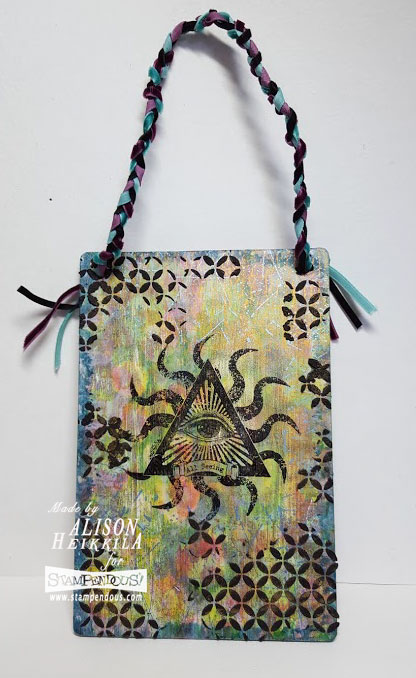 I made a cool wall hanging today. I started off with a piece of MDF and I drilled 2 holes, and covered it with DecoArt's white Gesso. After it dried, I used Andy's Alcohol and Media fluid Acrylics Layering Technique. You can check out his how-to video
HERE
. Needless to say, it's a great technique, and I loved doing it.
Once I finished with the aforementioned technique, I sealed the piece with Matte Varnish. Next, I stamped the Seeing Eye image from the Curiosity set with Black StazOn. I then stamped the MDF with the scratchy stamp from Andy's
Toxic
set. I used it with 2 Imagine Crafts
Encore Metallic Inks
(Blue and Copper)
I used the Cathedral Windows stencil and Matte Black Embossing Paste with a palette knife and applied the image here and there on the piece. Once it dried, I used DecoArt's Gold Interference paint and dry brushed it sporadically on the stenciled areas. Lastly, I braided 3 cords from May Arts together and tied them to the piece.
I had so much fun making this. It has certainly rekindled my desire to create mixed media pieces and paint. Please be sure to visit all of the fantastic blogs below. Thanks for stopping by. Have an inspiring day!