Hello! Have you been enjoying the Amplified week that the Stampendous team has been having? We have been working with some amazing products from Imagine Crafts, and we hope we have inspired you! Today, my project features a fun stencil from Dreamweaver, and another version of the monoprints that I shared with you on Monday.
Directions:
1. Create a monoprinted background using the reinkers from Imagine Crafts and the Creative Palette. Squirt the 3 colors of reinkers on to the Creative Palette and roll out with a brayer. Press the inked palette on to Mixed Media Paper. You can make several impressions, or monoprints, by rolling the brayer over the ink each time. More information on this is available here: http://www.stampendous.com/ti…/creative-palette-tips-tricks/
2. After you've chosen a monoprint to use, tape the Stacking Teacups to it. Using the palette knife, spread Glossy White Embossing Paste across the stencil. Lift and remove stencil, and allow the paste to dry.
3. To create the card base, cut Cafe Ole colored cardstock to 5 1/2″ x 8″ and fold.
4. Cut a piece of Pink Carnation Mini Dots to 5 1/2″ x 2."
5. Cut a piece of ribbon to wrap around one side of the monoprint, and glue.
6. Cut a Fitted Frame to fit sentiment from the Life Words set, and stamp with Brown Memento. Ink the frame with Dandelion Memento, keeping the edges heavier than the center.
7. Adhere all pieces to the card base.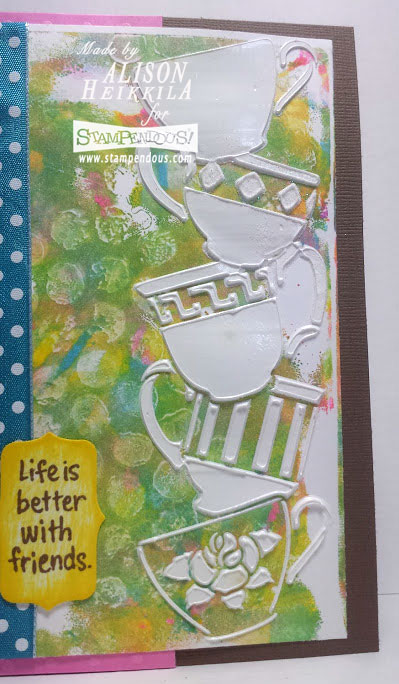 Supplies:
Stampendous:
DWLL493: Stacking Teacups
DCP1005: Fitted Frames
DWDGWP: Glossy White Embossing Paste
DWDPK: Palette Knife
SSC1213: Life Words
CP475: Creative Palette
MPW811: Mixed Media Paper