Who doesn't love a bit of sparkle? We sure do over at Wicked Wednesday! That's our theme this week… "Make it Sparkle." We are sponsored by All Dressed Up.
I used Flyaway Butterfly for my ATC. I colored her with alcohol markers. I added some Zip Dry adhesive to the background and sprinkled on Multi-Crystal Glitter from Stampendous all over it. But that wasn't quite enough sparkle. So I added some more drips of Zip Dry, and sprinkled Shaved Ice (also from Stampendous) on it.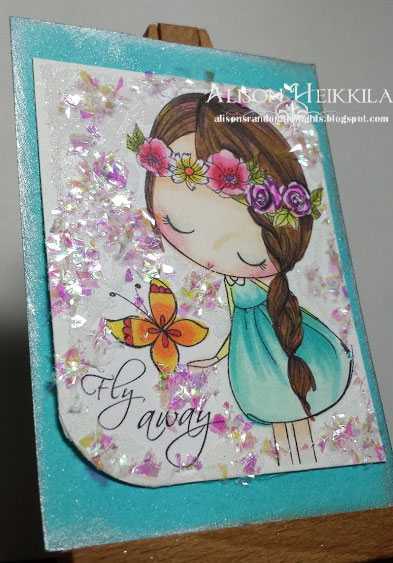 For my ATC base, I spritzed on some Sparkle Shimmer Spritz from Imagine Crafts. Then I inked the edges with Shimmery Silver Delicata ink. It's the prettiest silver ink I have ever used. We are running this challenge for 2 weeks, so you have some extra time to play along! Please be sure to visit the Wicked Wednesday Blog to see what the rest of the team has cooked up for you. Thanks for stopping by. Have an inspiring day!