Hello! My 19th wedding anniversary with my husband was last week, and I decided to make him a fun little ornament using sublimation products from Artesprix, along with stamps from Heffy Doodle. This is such a fun process and it really allows you to stretch your paper crafting supplies. To sublimate, set your heat press to 400 degrees and press for 75 seconds.

*Some affiliate links are used in this post. That means that if you shop through these links, I may receive a small compensation, at no cost to you. For more information, please see my Affiliates page, where I also have some coupon codes.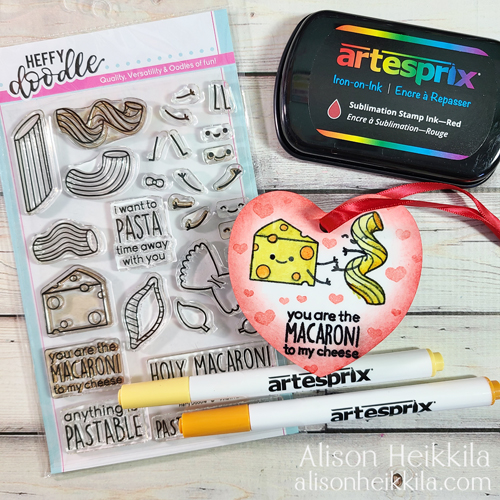 Here is the video. If it doesn't play properly, please click HERE.
Supplies:
Artesprix: Sublimation Ink Pads in Black & Red
Artesprix: Sublimation Markers: Pastel Chisel (Goldenrod & Tangerine)
Artesprix: Sublimation Markers: Bold Chisel (Marigold)
Artesprix: Mirror Stamp Plate
Artesprix: Acrylic Stamp Block
Artesprix: Heat Tape
Artesprix: Protective Paper
Heffy Doodle: Pasta La Vista Stamp Set
Heffy Doodle: Veggie Patch Stamp Set
Unisub: Heart Ornament (not currently available from Artesprix)
MISTI Stamping Tool
Strathmore: Smooth Bristol Cardstock (can use copy paper)
Other: Blending Brush, Pencil, Heat Press or Iron
I had so much fun making this and I'm so happy my husband loved it. Would you like to see more videos featuring Artesprix? Please let me know! Don't forget to visit the Artesprix store to see all of the available blanks and bundles, so you can get started with sublimation. You can use my code, ALISON10 to save 10% off of your purchase. Thanks so much for stopping by. Have an inspiring day!