Hello! I'm happy you stopped by. Today I'll be sharing my October Blank of the Month project with you for Artesprix, which is a Decorative Sign. Using a large Blank (or substrate) like this is great, because you've got a ton of room to create a fabulous design. Or should I say…fa-BOO-lous? It IS October, so let's make it a Halloween-themed project! We're making a mummy. This uses minimal common supplies, so you can probably make this right away if you've got the Blank!
*Affiliate links are used in this post. That means that if you shop through these links, I may receive a small compensation, at no cost to you.
What is Iron-On Ink?
Artesprix Sublimation Markers, Ink, and Paint are specially formulated to allow you to use basic copy paper to: color, stamp, stencil, and monoprint anything you wish and turn it into a heat-transferable design. These designs are then applied to a polyester or polyester coated substrate with heat and pressure. You can use a heat press or a home iron! These designs, through this process of sublimation, will become permanent on your substrates.
Supplies:
Artesprix:
Decorative Sign
Sublimation Acrylic Paint Set
*Free* Paint Color Mixing Chart
Heat Tape
Protective Paper
Other:
1" Painter's Tape
Paint Brushes (I used a round and a filbert)
Optional: Plastic Storage Cups
110lb Cardstock or Mixed Media Paper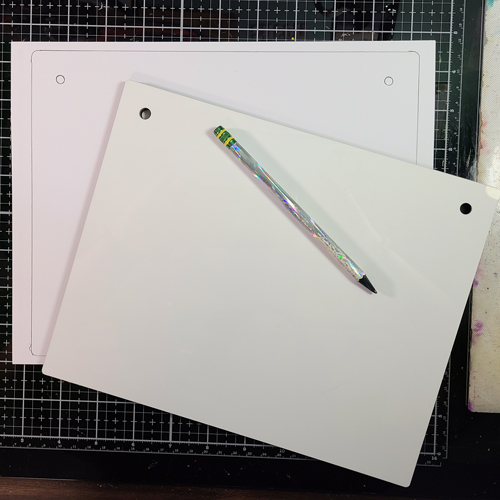 Step 1: Trace your Decorative Sign on to a piece of Mixed Media Paper with a pencil. The pencil marks will not transfer during the sublimation process.
Step 2: Tear strips of painters tape on each side, to rough up the edge. You can even tear them in half to make them skinnier. Apply them to your cardstock. 
Step 3: After adding some strips to the top, draw in the eyes with a pencil.
Step 4: Finish taping the rest of the outlined area.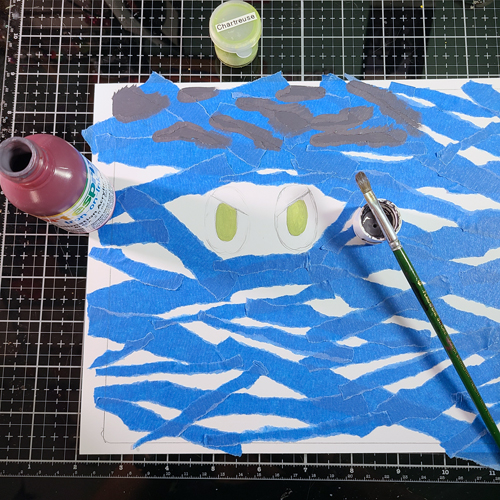 Step 5: Begin painting. I started with adding Chartreuse to the eyes (see Paint Mixing Color Chart) and then painted all the negative space on the cardstock with Black.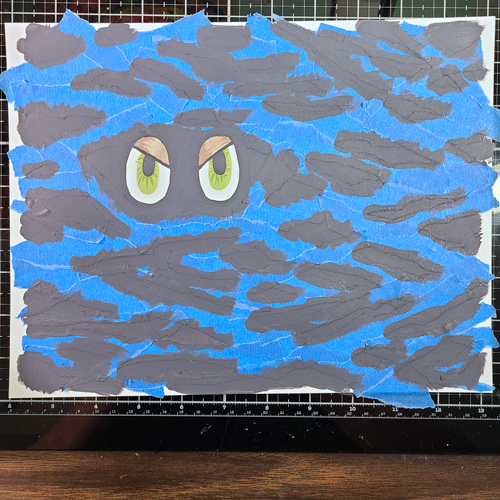 Step 6: Add details to the eyes with Lime paint and Brown.
Step 7: Remove the Painter's Tape once the paint has dried completely.

I forgot to take a photo of what this looked like once I pulled all the tape away, but it was pretty….empty. It was lacking definition. I apologize for not having a photo.

Step 8: Use a pencil to add in defining lines of the mummy's bandages. I intentionally made the lines wavy to mimic the torn edges of the tape.
Step 9: Using a liner brush, go over the pencil lines with Black Sublimation Paint to define the lines. Now our design is finished!
Step 10: Tape your design face down to the Decorative Sign. Be sure to use plenty of Heat Tape, as the sign is quite thick. You don't want anything to shift.
Step 11: It's time to make the Sublimation Sandwich. This sandwich not only ensures a great transfer of your design, but it will protect your heat source as well. Your sandwich will be: Protective Paper – Design (face down) – Decorative Sign – Protective Paper.
Step 12: Let's sublimate! Place the Sublimation Sandwich into your Heat Press (be sure to adjust the height to accommodate the thickness of the sign) and press at 400 degrees for 105 seconds.
Step 13: It's time for the Peek Test! Let's take a look at a corner of our project to make sure our design transferred well. If it didn't, since we still have a lot of tape attached, we can put it back into our heat press to sublimate again.
Here is our completed Decorative Sign with the original artwork. Look at how the eyes pop and the black is so rich now!
Step 14: Tie the included ribbon onto the sign and hang it up!
I love how this mummy turned out! I hadn't expected to need to draw in the extra lines, but it was pretty simple to do and made a huge impact on the completed design. Now my sign can be hung with the rest of my Halloween decorations. The Artesprix collection of paints, inks, and markers make sublimation easy and limitless. How would you like to get more ideas on using Artesprix's Sublimation Iron-On-Ink? There's a Facebook Group that's just for fans of Artesprix! You can click HERE to join. Also, don't forget to visit the Artesprix store to see all of the available blanks and bundles, so you can get started with sublimation. You can use my code, ALISON10 to save 10% off of your purchase. Thanks so much for stopping by. Have an inspiring day!