Greetings! My mom's birthday was last week, so I wanted to share the birthday card I made for her. I wanted to make a collaged card with some botanical elements, and I wanted to use the Script stencil from A Colorful Life Designs. At the time of posting this, the Script stencil is on sale for $4.00! Grab it at this price while you can. I want to mention that I was really inspired by my friend Holly's card that uses this stencil too. You can check out her card HERE.

*Some affiliate links are used in this post. That means that if you shop through these links, I may receive a small compensation, at no cost to you. For more information, please see my Affiliates page, where I also have some coupon codes.
I knew I needed to go through my Tim Holtz stash to find the elements I wanted to use on the card. I pulled out his Typography Collage Paper, Halloween Transparencies, and the Halloween Ephemera Pack. I started by inking a piece of 4″ x 5 1/4″ piece of cardstock with some Walnut Stain, Rustic Wilderness, and Scattered Straw Distress Inks. Then I applied a layer of Collage Medium with my fingers, and laid the collage paper on top. I used glossy black embossing paste through the Script stencil and let it dry.
Once the paste was dry, I started playing with the ephemera. I knew I wanted to use that butterfly from the Transparencies set. I pulled out a few things from the Ephemera pack, but I needed….something else… I remembered I had the Funky Foliage die set and knew that was just what the card needed. I die cut a mushroom and fern from Kraft cardstock and inked them with Lumberjack Plaid, Walnut Stain, and Rustic Wilderness Distress Inks. I attached everything to the card when I was happy with the arrangement, and added a few gold baubles. I inked the edges of my white card base with more Rustic Wilderness and Peeled Paint Distress Inks. I also added a teeny "happy birthday" from Lawn Fawn.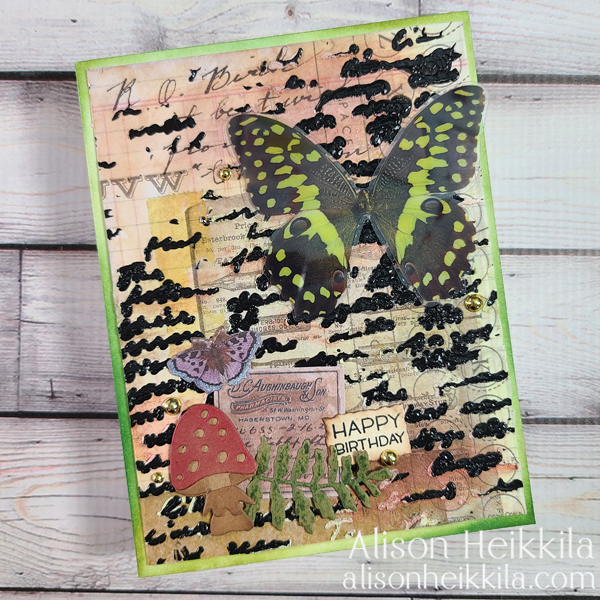 My mom loved the card. She loves botanicals and collages, so I knew this would be perfect for her. Please be sure to visit A Colorful Life Designs to see the many, many stencils they have to offer. You can use my code, AlFan10 to save 10% off of your regular-priced purchase. Then, show off your creations in the A Colorful Life Designs Fan Group on FB. Thanks so much for stopping by. Have an inspiring day!