Hello! Yesterday, I shared a card that uses the Pine Tree Duo from A Colorful Lie Designs. Today's card uses the same technique, which I dubbed "Stencil Ink Smooshing," but with the Pine Tree Center Stencil. And since I changed up the colors dramatically, we've got a totally different look from yesterday's card.

*Affiliate links are used in this post. For more info, please see my Affiliates page.
I started this card off as I did the other, by applying Distress Ink to the back of my stencil. I only used Black Soot this time. After I had enough ink on the back of the stencil, I spritzed it with water to get the color to move. Then I carefully placed the stencil on to a piece of Bristol paper. I pushed the stencil carefully with my fingers, without moving the stencil on to the paper to get the wet ink to move under the stencil. After I thought I transferred enough ink, I lifted the stencil. There were a few spots that needed some more ink, so I went in with a brush and carefully added color, being careful to follow the stenciled image.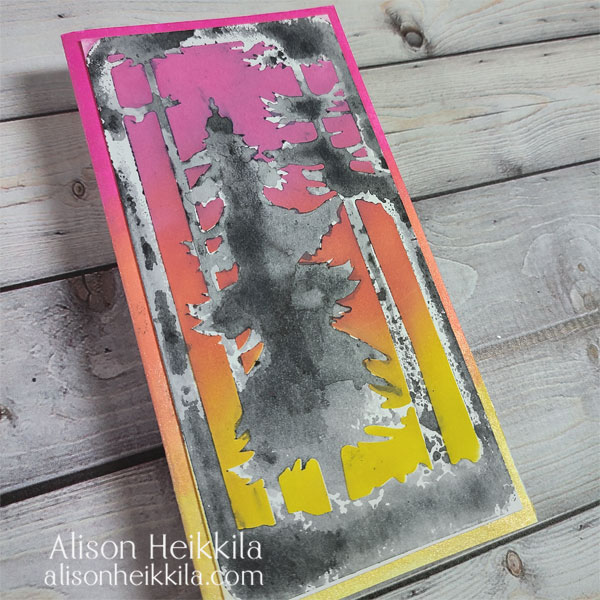 After the panel dried, I placed my cleaned stencil on top of the Bristol again and ink blended Picked Raspberry, Ripe Persimmon, and Mustard Seed Distress Oxides to create my sunset. I then trimmed the panel down to the same size of the stencil. For my card base, I cut a piece of cardstock to 6 1/2″ x 6 1/4." This would give me a finished mini slimline card size of 3 1/4″ x 6 1/4." My base is white, but as I usually do, I wanted to add color. Instead of blending my Oxides again though, I went for shine. I took Rose Bud, Tangelo, and Dandelion Fireworks! Spray from Imagine and painted my edges to match the main panel. The colors look almost identical, except the Fireworks! Spray has shimmer. It looks fantastic in person, but it's hard to capture in a photo.
I love this version of the Pine Trees. The stencil is beautiful, and this "Stencil Ink Smooshing" technique allows for so may fun, organic-looking options. I have been asked by a few folks to make a video showing how to do this, so I will get on that very soon. Have you visited A Colorful Life Designs lately? I encourage you to give them a visit. The November release is fantastic, and there's still one more Pine Tree stencil I need to share with you. You can use my code, "AlFan10" to get 10% off of your purchases, excluding Master Bundles. Thanks for stopping by. Have an inspiring day!