Hello! Today I have a new card for White Rose Crafts, the online store that has all sorts of wonderful items for papercrafting. My card today was done in a grayscale. I often work with a lot of colors, but I wanted to keep it tonal for this card.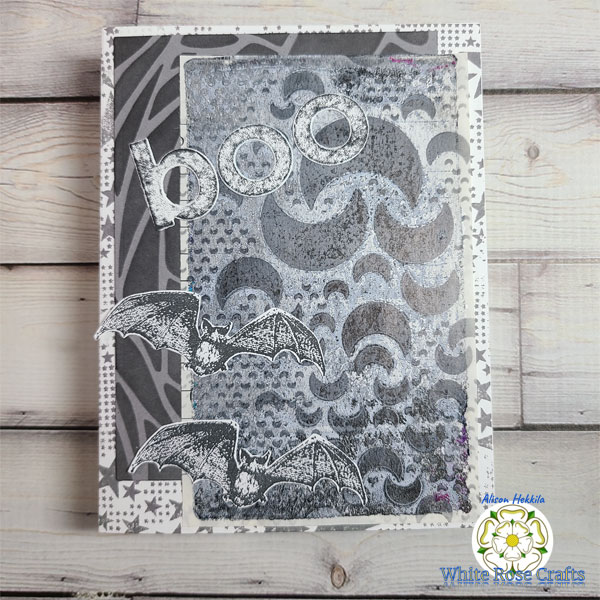 I recently got the "Bat" stamp from Paper Parachute, which was the jumping off point for this card. I stamped it twice and fussy cut it out. I went through my Gel Press prints to see if I had anything I could use, and I found a black & white print that I did on used Scattergories paper (you know, the game?) with AALL & Create's "Lotza Crescentz" Stencil. I love reusing paper like this. It not only gives it a new life, but you can sometimes see what's written and printed on the paper, which adds another fun bit of interest to the print.
My layer below the monoprint was done on gray cardstock with Ciao Bella's "Tiffany" stencil and Black Soot Distress Ink. On my card base, I stamped AALL & Create's "Reverse Stars" stamp with a gray ink I had in my stash. I also used an alphabet die cut set from my stash to cut out "boo" which I inked with Black Soot Distress Ink. I adhered everything to the card front with double sided adhesive.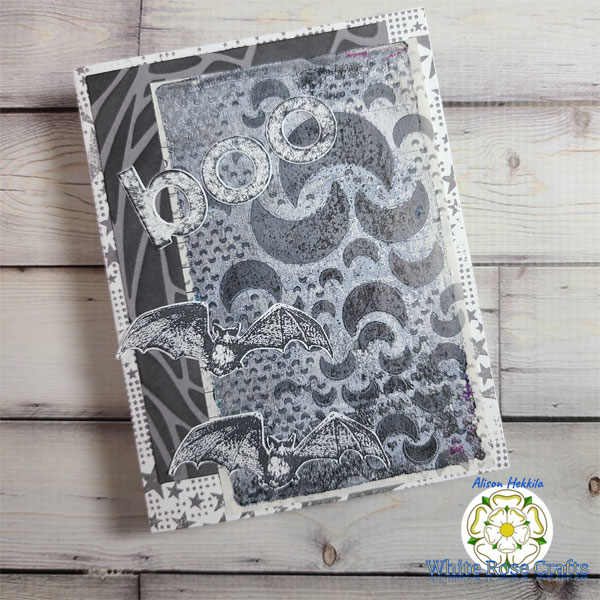 I really like how aged and distressed all of these elements are. I think the end result is creepy and cool, with lots of things to look at. Please visit White Rose Crafts to take a look at their vast collection of products, and use my code, "Alison 15" to save 15% off of your purchase. Thanks for stopping by. Have an inspiring day!