Greetings! Did you know that this month Sassy & Crafty is collaborating with Therm O Web? It's true, and I'm so excited about it. I was super stoked to play with some of their newest products, especially the Toner Card Fronts, one of which I have used here today. Of course, I had to pair it with one of the latest Sassy Girls, from the Sassy Girls- Chatty stamp set. She'll be available, along with the rest of the new release starting tonight (3/5/21).

*Affiliate Links are used in this post, at no cost to you. Please visit my "Affiliates" page for more info.
I colored this gorgeous gal using my Copics. I went out of my comfort zone and used some orange, since I knew I wanted to give the Peach Princess DecoFoil a test run. I really love that some of the Toner Card Fronts come in Kraft (like this Lots of Dots), so I opted to use that because of the warm colors I used on my Sassy Girl.
The Peach Princess Deco Foil is part of Therm O Web's Fairytail Foil collection. These colors are so pretty, but they are unexpectedly holographic too. Look at how gorgeous those rainbow tones are. You can see those flashes of color even better in the quick video below.
Aren't those rainbow flashes stunning? The actual peach color is quite lovely too, and I love it on the Kraft. I chose a sentiment from the Sassy Girls- Crafty and heat embossed it with Ivory powder on brown cardstock. I mounted everything on to a cream card base.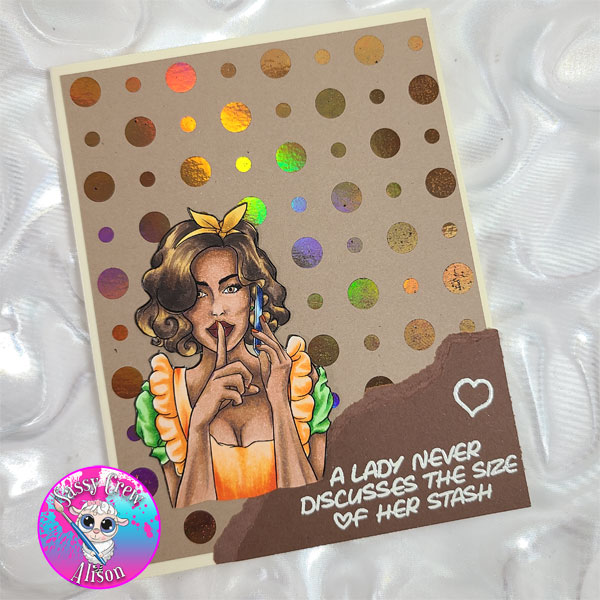 I love how easily this card came together. The Toner Backgrounds are so simple to work with, and you don't need to do much more to have a fabulous, completed card. I'd like to thank Therm O Web for collaborating with Sassy & Crafty. I look forward to sharing more projects with both companies. Please be sure to check out the full March release for Sassy & Craft starting tonight! Thanks so much for stopping by Have an inspiring day!