Hello! Have you gotten a chance to see all 12 of the new Sparkle Blends from Doodles Paper Playground that were released this month? There is definitely something for everyone in it. My project today features the Citrus Tornado Sparkle Blend, which is pictured below in all it's glory.
*affiliate links are used in this post at no cost to you.
I have a lovely set of fruit stamps from Mama Elephant (called Fresh Fruits) that I really wanted to use with this Sparkle Blend, and this is how my card turned out.
I colored my lemons, lime, and leaves with Copics, and used the coordinating dies to cut them out. I asked Rhiannon what she thought I should do for a background, and she immediately told me that I needed to add orange. I agreed, and decided to break out my alcohol inks and create a background.
My background was made with Mojito, Alchemy, and Splendor. The last 2 are pearl colors, and I think they work beautifully with the shine of Citrus Tornado. Above, you can see the little fruit slices, the tiny circular pinwheels, and the varying shades of citrus colors. My favorite thing in this Blend are the little kiwi slices.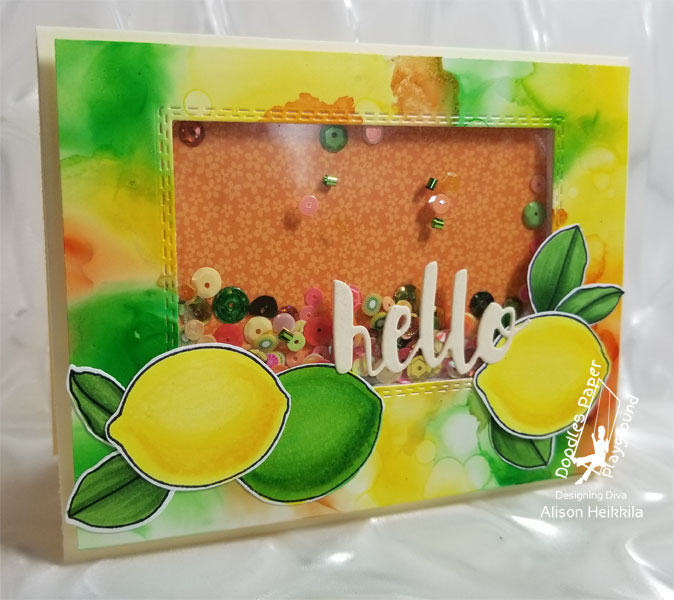 Rhiannon thought I needed even more orange, so I opted to use some orange patterned paper from Doodlebug. I also die cut a simple "hello" from Simon Says Stamp out of cream cardstock, which I also used for my card base.
I love how cheerful this card is. It can be used for many occasions, and is sure to brighten someone's day. I hope you'll visit the Sparkle Blends Shop on Etsy to see all of the currently available sequin mixes. Sparkle Blends are made in small batches, only once, so once they're gone, they're gone for good. You can use my code, "ALISON10" to save 10% off of your order (not including Bundles). Thanks so much for stopping by. Have an inspiring day!