Hello! Earlier this month, the team over at Imagine had a call for Spring artwork. I submitted a card using one of my favorite flowers, the hydrangea. The post went live on their blog earlier this week, (you can view it HERE) so I wanted to share details on my card with you. I used some of my favorite inks, which are of course, from Imagine. VersaMagic Inks are some of my absolute favorites because of the soft chalky finish they have, plus their blend-ability. I knew they would be perfect for this lovely hydrangea, and by using blending brushes, I colored it up very quickly.
I stamped my Hydrangea (it's Stampendous' Hydrangea Wings) with VersaMark ink and then heat embossed it with a Detail White Embossing Powder. Using 3 small blending brushes (mine are just makeup applicators) I first applied Aspen Leaf to the entire flower, then Pretty Petunia to the centers, and lastly, Tea Leaves to the foliage. These brushes give good control and allow the color to be applied softly. And since the VersaMagic colors are already soft, you get a lovely, dreamy effect.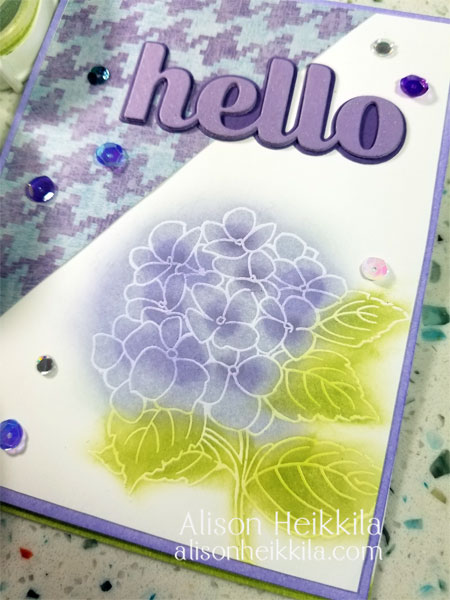 After inking up my hydrangea, I chose an old houndstooth pattern paper to give the card more of a graphic feel. This paper also has a softly colored look to it which I thought went well with the flower. My sentiment (Big Hello) was created with a die cut set from Birch Press Designs. I really love all of their Sugar Script word die cuts.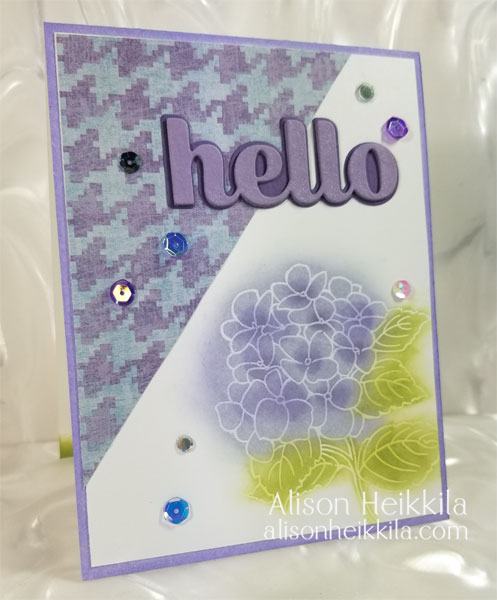 My card needed a little sparkle, so the first thing I did was to add some of the Happy Little Flurries Sparkle Blend with On Point Glue, which is my favorite adhesive for sequins. I also shook up some Sheer Shimmer Spritz in Frost and applied it to the top layer of my sentiment with a brush. On my card base, I applied Pretty Petunia VersaMagic around the entire perimeter. I also cut my top layer of my card base slightly smaller than the bottom, so that I can add an additional pop of color with Tea Leaves VersaMagic.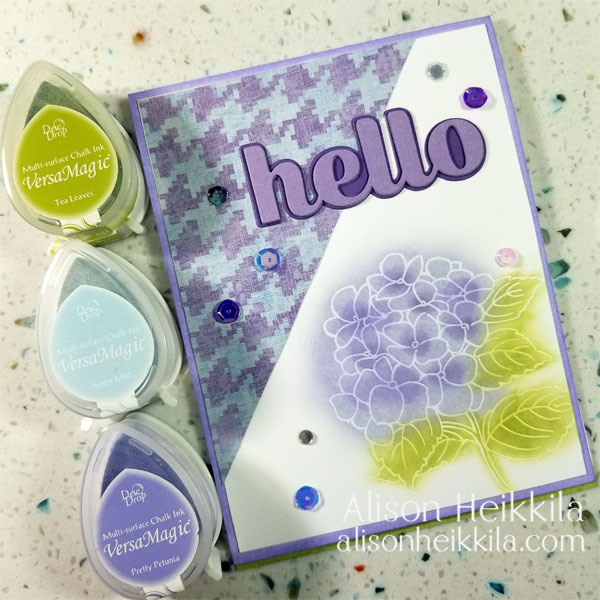 This card is soft and dreamy, and is great for many occasions. Right now, with so many of us stuck in seclusion, this is the type of card I would send to friends and family to give them a smile during these difficult times. Thanks so much for stopping by. Have an inspiring day!