Hello! Did you get to check out the Doodles Paper Playground February Release Blog Hop? If not, please visit my post from yesterday, HERE. As I mentioned yesterday, Phoenix didn't get a chance to finish his card in time for yesterday's post, so I am sharing it with you today. I think you will really like his creativity!
He made this card for me for Valentine's Day, which of course goes perfectly with the "Love is in the Air" theme for this hop. I'll share the card Phoenix made for his dad at another time. He was inspired by the new Lawn Fawn Love Poems and You're Just My Type stamps, so that was his jumping off point. He colored (with Memento Markers) and fussy cut them all out. I think he prefers to have his edges right at the stamp, instead of having the white border that you get when you use the coordinating dies.
He chose to use the Love Hearts and Gold Rush Sparkle Blends to embellish the card front. He of course wanted the hearts because it's a Valentine's Day card, and he thought the Gold Rush really fancied it up. He adhered each little sequin with On Point Glue and he popped up all of his typewriters with Brutus Monroe foam tape. But! Did you notice that shiny green thing popping out of the 3rd typewriter?
He designed a little hideaway spot for a piece of Andes Mint candy! The piece fits perfectly behind the typewriter and mouse, and the foam tape is thick enough (doubled up) to create the hideaway. Truth be told, I ate the one that was in there originally, and I didn't want to push the new piece down all the way so that you were able to see it. He added foam behind the mouse head after I took the first piece out, so it isn't fitting as well as before, but you get the idea. How clever is this?! It was such a "sweet" surprise!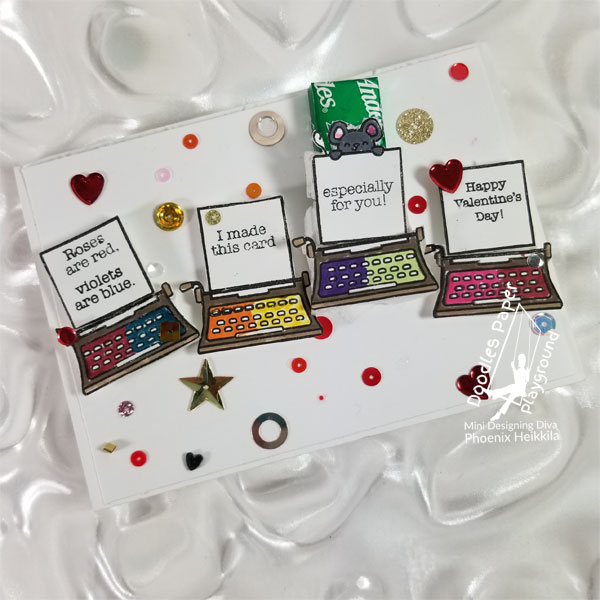 I love the way Phoenix comes up with little surprises in his cards. His attention to detail never ceases to amaze me. Please be sure to visit the other posts in the hop for your chance to win some Sparkle Blends. Full details are in the other posts, all of the links are below. Thanks so much for stopping by. Have an inspiring day!
Alison, Phoenix & Rhiannon
Fawn
Annie
EK
Roni
Amber
Doodles Paper Playground