Hello! The 31 Days of Halloween are nearing it's completion, but at least we still have a couple more days left. Today is Day 29, and I have a card to share. Spider webs at night look really cool when the moonlight hits them, especially if there is some dew on it. That's what I was trying to recreate here.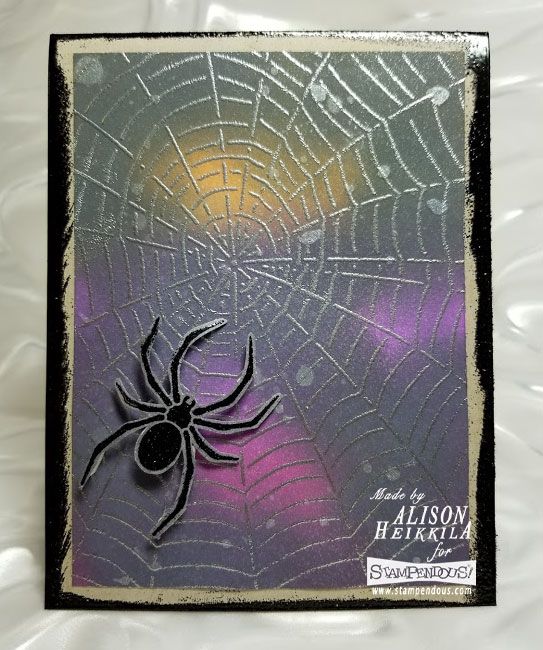 Supplies:
Stampendous:
DWLJ816: Spider Web Stencil
DWLS28: Spider Stencil
DP101: Detail Silver Embossing Powder
DP111: Detail Black Embossing Powder
MPW811: Mixed Media White Paper
Other:
Imagine: Sheer Shimmer Spritz in Frost, VersaMark Ink, Ink Sweeper
Ranger: Distress Oxides in Wilted Violet, Seedless Preserves, Spiced Marmalade, and Black Soot, Ink Blending Tools
Scrapbook Adhesives: EZ Roller, Foam Squares
Kraft and Gray Cardstock
Directions:
1. Using Mixed Media White Paper and Ink Blending Tools, apply Wilted Violet in the center of a
5 1/4″ x 3 3/4″ rectangle in a circular motion.
2. Apply Seedless Preserves to the bottom of the cardstock, blending it into the Wilted Violet ink.
3. Apply Spiced Marmalade to the top of the cardstock. blending with the Wilted Violet ink.
4. Apply Black Soot in random areas. Do not completely cover up the colors. Allow them to show through in some areas.
5. Spray Sheer Shimmer Spritz on to inked cardstock. I spritzed it as well as opening the bottle and allowing the straw to drip on to the cardstock.
6. Dry with a heat tool to speed up the process. You may want to use an anti-static powder tool over the whole thing just in case you missed a spot.
7. Temporarily tape down the cardstock to your work surface, and tape the Spider Web Stencil on top of that.
8. Using the Ink Sweeper, apply VersaMark ink to the entire stencil, using a dabbing motion.
9. When the cardstock below has a sufficient amount of ink on it, remove the stencil and sprinkle with Detail Silver embossing powder. Heat set.
10. On gray cardstock, tape down the spider stencil.
11. Apply VersaMark ink to the spider with the Ink Sweeper.
12. Remove the stencil, apply Detail Black Embossing Powder, and heat set.
13. Fussy cut the spider.
14. Create the card base with Kraft cardstock, to create a card tat is 4 1/2″ x 5 1/2."
15. Apply VersaMark ink to two sides of the card base. Sprinkle with Detail Black Embossing Powder and heat set.
16. Repeat with the other two sides.
17. Adhere the spider web layer to the card base.
18. Cut small pieces of foam squares to fit under the spider's legs and body and adhere it to the card.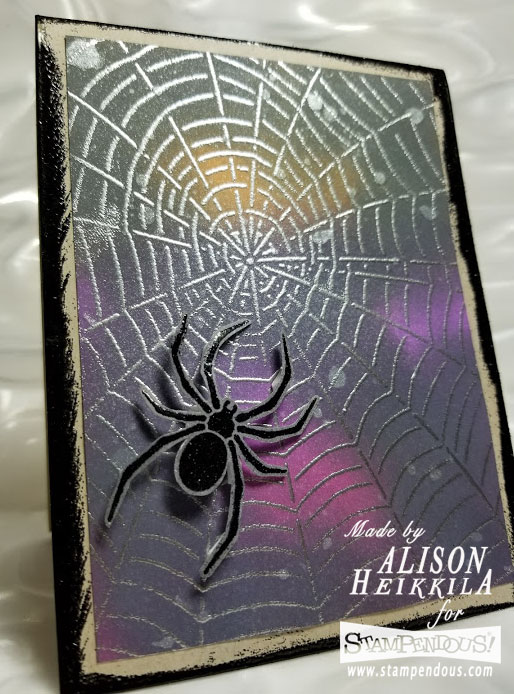 That's it for me today. Thanks so much for stopping by. Please be sure to visit the rest of the Wicked Bloggers, all listed below. Have a spooktacular day!
Lost Coast Designs/Carmen's Veranda
Alison (that's me!)