Greetings! This week, the Stampendous team is showcasing, "Where the Wild Things Are." You'll get to see lots of fantastic animal projects all week long. Today, I am sharing one of my favorite projects from the April catalog…the Stylized Whale.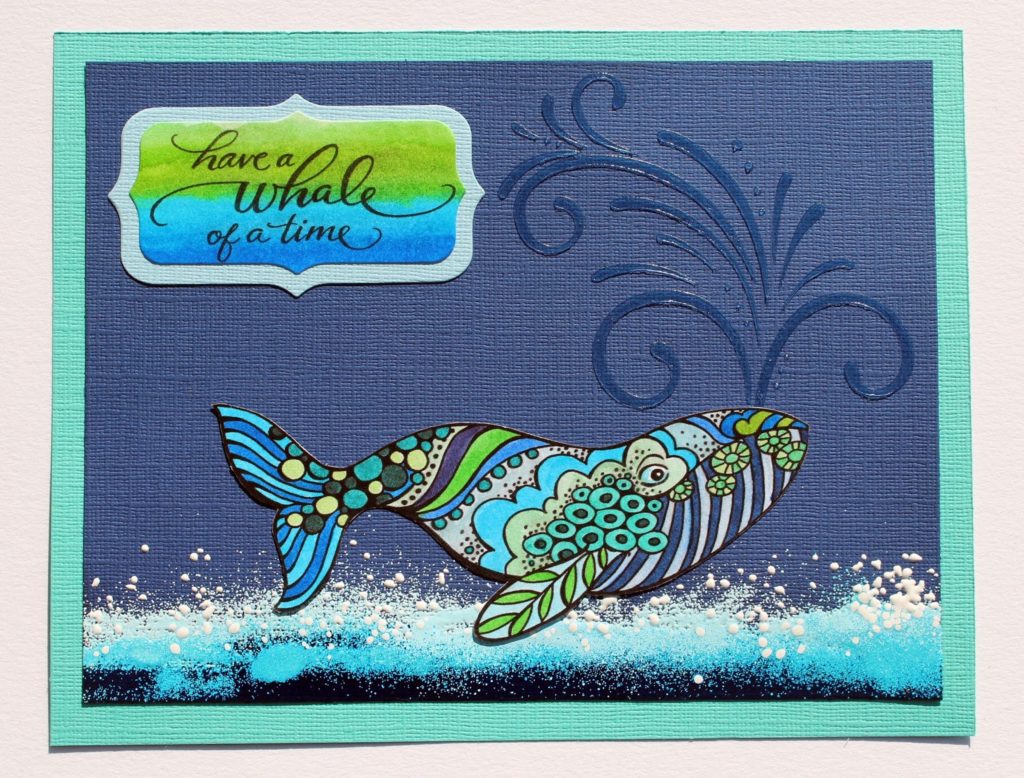 Supplies:
Stampendous:
P302: Stylized Whale
L270: Whale of a Time
DCP1005: Fitted Frame Set A
DWLG713: Amsterdam Flourish
DWDEPT: Translucent Paste
EK22: Beach Embossing Kit
DWDPK: Palette Knife
STF082: VersaFine Ink in Onyx Black
VM001: VersaMark Ink Pad
Other:
Zig Clean Color Markers: 031, 032, 033, 035, 036, 037, 038, 041, 042, 045, 047, 048, 049, 302, 303, 400
My Colors Cardstock: Sky, Seafoam, Deep Indigo
Canson: Mixed Media Paper
Beacon Adhesives: Zip Dry Glue
Directions:
1. Stamp the Whale with VersaFine ink on Mixed Media Paper. Color with Zig Markers listed, then fussy cut.
2. Stamp the sentiment on to Mixed Media Paper with VersaFine ink. Color with 031, 032, 041, 049.
3. Die cut the sentiment using the small "L" Fitted Frame.
4. Die cut the large "L" Fitted Frame in Sky cardstock.
5. Create the card base out of Seafoam cardstock cut to 6-1/2″ x 10."
6. Make a mat out of Deep Indigo, cut to the size of 4-1/2″ x 6."
7. Tape the Amsterdam Flourish stencil to the Deep Indigo mat on the right side. Use the whale as a guide.
8. Tape off the extra portions of the stencil that you do not want stenciled.
9. Using the palette knife, spread Translucent Paste across the stencil. Remove and wash stencil. Let paste dry.
10. Apply VersaMark to bottom of the card, and go up about 1/2″ up.
11. Using the Beach Embossing Kit, apply Pacific Blue to the very bottom, then Sky Blue, then Baby Blue, and last, a few sprinkles of Chunky White. Heat set from the bottom.
12. Glue all layers with Zip Dry Glue.